Ivory Coast: Ouattara forces promise Abidjan offensive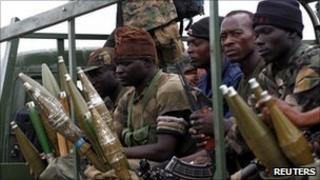 The prime minister of Ivory Coast's internationally recognised president, Alassane Ouattara, has said the time is right for a "rapid offensive" against the country's main city, Abidjan.
Guillaume Soro said days of clashes in the city had sown panic among troops loyal to incumbent Laurent Gbagbo.
Many residents are trapped indoors without food, water and electricity.
Earlier, the UN urged Mr Ouattara to investigate hundreds of deaths blamed partly on his supporters in Duekoue.
The UN recognised Mr Ouattara as president after a run-off vote in November, but Mr Gbagbo also claimed victory and refused to quit.
Shooting at journalists
Mr Gbagbo has received a boost as his defecting army chief of staff, Gen Philippe Mangou, has returned to the fold.
Gen Mangou met Mr Gbagbo after leaving the South African ambassador's residence on Sunday, where he had taken refuge.
The BBC's Andrew Harding says pro-Ouattara troops have been massing just outside Abidjan amid confident talk of a final push, although they have been saying that for days.
Residents occasionally venture out to brave bullets and looters in search of water, now cut off in parts of the city, he adds.
A group of journalists trying to drive into Abidjan were fired on repeatedly by militias.
A spokesman for the UN mission in Ivory Coast (Unoci) said there had been shooting near the presidential palace, where Mr Gbagbo was believed to be staying.
A source in Mr Ouattara's camp said there had been a relative lull in the fighting while reinforcements arrived from the country's north.
'French occupation'
Mr Soro announced on Sunday evening that they had surrounded Abidjan, and there was panic among Mr Gbagbo's troops.
"The situation is now ripe for a rapid offensive," he told Mr Ouattara's television station, TCI.
"The operation will be rapid because we have discovered the exact number of operational tanks on the ground. Ivorians must trust in the Republican forces."
Mr Ouattara's forces captured most of the country after mounting a major offensive a week ago.
But the battle for Abidjan has been much harder in a city where Mr Gbagbo draws much of his support.
The BBC's John James in the central city of Bouake says pro-Gbagbo state television has become notably fiercer in the last 24 hours.
People have been urged to come out and form a human shield around Mr Gbagbo's residence.
Broadcasts have accused French peacekeepers of being an "occupying force" intent on genocide.
The French have taken control of Abidjan airport from the UN mission and are beefing up their force to 1,650 soldiers.
'Drogba's town attacked'
The French military say the aim is to allow commercial flights to resume so foreign citizens can be evacuated.
Former colonial ruler France has had peacekeepers in Ivory Coast since its civil war, which began in 2002 and ended two years later.
Mr Gbagbo's spokesman, Abdon George Bayeto, told the BBC's World Today programme on Monday there was an international plot against the incumbent president.
"When it comes to a fight we are going to put up a fight," he said. "The president is not going to step down."
He also said Chelsea footballer Didier Drogba's father's hometown of Guiberoua, in western Ivory Coast, had been attacked on Sunday and people killed there.
UN peacekeepers are protecting tens of thousands of civilians who have taken refuge in the compound of a church in the western town of Duekoue.
The UN says more than 330 people died last week as Mr Ouattara's forces took over the town.
More than 100 of them were killed by Mr Gbagbo's troops, it adds.
Mr Ouattara's officials blamed the deaths on fighting between local militias, and said he would welcome an international inquiry.