Ivory Coast: Rival forces in fierce Abidjan fighting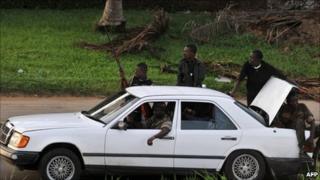 There has been fierce fighting in Ivory Coast's main city of Abidjan between the forces of UN-recognised president Alassane Ouattara and those loyal to his rival, incumbent Laurent Gbagbo.
Mr Ouattara's forces have made sweeping gains in the past week but have failed so far to defeat Mr Gbagbo in Abidjan.
Residents say they fear for their safety amid clashes at the presidential palace, TV station and other districts.
Meanwhile, the Red Cross says at least 800 people have been killed in Duekoue.
Dorothea Krimitsas, a spokeswoman for the International Committee of the Red Cross, told the BBC that they died in inter-communal violence in one district of the western city on Tuesday.
She added that the scale and brutality of the killings were particularly shocking, and appealed to the warring parties in Ivory Coast to remember their obligation to protect civilians.
'He is at home'
Abidjan residents contacting the BBC have said they are afraid to go out of their homes.
One citizen, Maste, told the BBC: "We have been hearing loud gun sounds coming from everywhere and every corner."
Another said: "It's heavier than [Thursday], but we don't know if it's mortar or rockets. We don't know, but it's frightening."
Fighting was reported in the Plateau, Agban and Cocody districts, among others. Smoke rose from the area near the presidential palace. The gunfire appeared to lessen in late afternoon and into the evening.
The number of casualties is rising. Mego Terzian, of Doctors Without Borders, told Reuters it had treated at least 80 people in the past two days, many with gunshot wounds, adding: "The majority are young men, though we can not tell whether they are combatants or civilians."
Mr Ouattara was internationally recognised as president last year, after the electoral commission declared him the winner of a November run-off vote, but Mr Gbagbo also claimed victory.
Mr Ouattara's forces have swept down from the north over the past week , capturing the capital Yamoussoukro and the key port of San Pedro.
Correspondents said it appeared Mr Gbagbo had only hours left as Mr Ouattara's men moved on the presidential palace and took the TV channel off air.
However, Gbagbo spokesmen insisted his forces had repulsed the attack.
One spokesman, Ahoua Don Mello, told AFP news agency that the assault on the palace, the TV station and Mr Gbagbo's residence in Cocody had all been failures. This cannot be independently confirmed.
However, Reuters reported that the Gbagbo-controlled RTI television was back on the air and broadcasting images of his swearing-in after the November election.
Mr Gbagbo's whereabouts have been unknown since last week's Ouattara offensive began but aides and diplomats suggested he was still in Abidjan.
Ahoua Don Mello denied Mr Gbagbo had fled the country, saying: "He is at home, obviously, with his wife and the whole family."
In a phone call to the BBC's Andrew Harding, the influential leader of the pro-Gbagbo Young Patriots also said Mr Gbagbo was not in any danger.
He called on Mr Ouattara to enter into dialogue "before it's too late" and said he had not yet called his Young Patriots on to the street.
One diplomat told AFP that "the frontlines did not change on Friday".
UN forces in Abidjan patrolled the business district in armoured cars and flew helicopters to conduct surveillance.
'Bloodbath'
France has announced it is increasing its force in Abidjan from about 900 troops to some 1,100.
Ouattara spokesmen insisted Mr Gbagbo's time in power was at an end.
Anna Ouloto said: "I don't think Laurent Gbagbo is capable of resisting for much longer with all the defections in his ranks... he is condemned to be removed."
Another spokesman, Guillaume Soro, said: "Laurent Gbagbo must step down to avoid a bloodbath. Hopefully he will or we will go and fetch him."
There have been a number of major defections from Mr Gbagbo's camp to Mr Ouattara's, including army chief General Phillippe Mangou.
The international community stepped up its pressure on Mr Gbagbo with a series of calls for him to stand aside.
US state department spokesman Mark Toner said: "We encourage Mr Gbagbo to read the writing on the wall."
French President Nicolas Sarkozy said in a statement: "France calls on Laurent Gbagbo, according to UN Security Council resolution 1975, to withdraw immediately, to cease from violence and give up power peacefully to President Alassane Ouattara."
West African bloc Ecowas urged Mr Gbagbo to give up power "to end the suffering of his country".
The UN mission in Ivory Coast (UNOCI) said the UN's special representative there had spoken to Mr Gbagbo's allies and was ready to "facilitate his departure if that is his wish".
A curfew called by Mr Ouattara from 2100 GMT to 0600 GMT in Abidjan remains in place. Land and sea borders remain closed although on Friday the air border reopened.