Ivory Coast eyewitness: Explosions rock Abidjan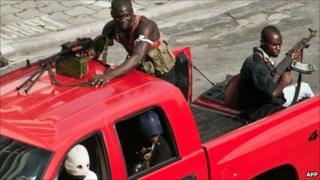 In Ivory Coast's main city of Abidjan, a heavy assault has been launched on the fortified presidential residence.
The coastal city is the last stronghold of incumbent President Laurent Gbagbo, who is refusing to stand down despite the UN saying he lost November's poll.
Nfor Susungi, a Cameroonian and long-time Abidjan resident, says the fighting began on Thursday afternoon when forces loyal to internationally recognised President Alassane Ouattara, entered the city from the north.
He described the situation on Friday to the BBC's Network Africa:
Fighting resumed this morning around 2am (0200GMT) - and it has been very intense - involving the use of very heavy weaponry and ordinances.
It is concentrated around the residence of President Gbagbo in Cocody [central Abidjan] - it is still taking place right now as we speak.
I stepped out onto the balcony [when it became light] to look to the area in the distance where the fighting is taking place.
What we see is nothing much, but what we hear is the sound - the loud thud of heavy explosion ordnances which are so loud and so powerful they almost rattle the glass windows of the building where we're living in Le Plateau - three to four kilometres as the crow flies from the epicentre of the fighting.
There have been no helicopters flying this morning.
'Staying inside'
The helicopters in the air yesterday were of the French army, there were a couple from the UN too, but most from the French.
We're being informed that Ouattara forces have not taken control of the television station - which is in the same area as the presidency.
Yesterday, we waited for the news on the local television channel but it didn't come on last night.
The simple explanation for that is that any employees would have gone home because the intense fighting taking place around there.
There are no security forces where we are… [but] today nobody is going to step outside for as long as they hear the sound of heavy gunfire and large explosions.
We've been told the blockade around the Golf Hotel [Alassane Ouattara's headquarters] was lifted yesterday, so presumably they are free to come in and out.
But I doubt whether any of them would be coming out because of the intensive fighting around the residence of the president, which is just across the lagoon from Golf Hotel and no more than a five-minute drive by boat.
So anybody who is in the Golf Hotel would be best advised to remain in doors - assuming of course that the Golf Hotel itself doesn't come under attack.