South Africa rugby star Ntshongwana 'in axe rampage'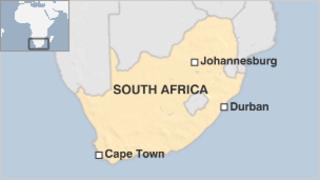 Former South African rugby star Joseph Ntshongwana has appeared in court for allegedly hacking three men to death with an axe.
The killings are said to have been to avenge the gang-rape and HIV-infection of his daughter, local reports say.
Mr Ntshongwana, who appeared in a packed Durban court, was not asked to plead to three charges of murder, one of attempted murder and one of assault.
He is a former flanker for 2010 national champions Blue Bulls.
At least one of the bodies was decapitated and the head found in a dustbin almost 2km (1 mile) away.
Another victim's head was left hanging "by a nerve", police said.
Details of the third man killed have not been released.
"As the axe came down towards my head, I ducked and it scratched my stomach," said survivor, Khangelani Mdluli, 27, reports Cape Argus newspaper.
Police have alleged that Mr Ntshongwana stalked his victims over several days in and around townships near Durban before killing them.
The police cannot confirm that his daughter was raped, saying that may be investigated later on.
Mr Ntshongwana has been remanded in police custody and is due back in court on 7 April for a bail hearing.