South African woman tells of spiritual healing temptation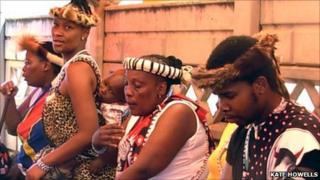 On a typical Saturday afternoon in the urban community of Soweto, Johannesburg, a young woman dressed in red, white and black, beads jangling from the bandana in her hair, dances emphatically to the beat of a drum.
She is being initiated as a "sangoma" - one of South Africa's traditional spiritual healers, who still occupy a powerful position in society.
An estimated 70% of South Africans will visit a spiritual healer before seeking conventional medical help.
Lesego Mangwanyane is watching the ceremony. She is a young journalist from SAFM radio and is sceptical of the sangoma, but as the drum beats she begins to feel uneasy.
Lately she has had bad dreams and visions and is worried that they could represent a call to become a healer.
"I'm afraid that the ancestors are calling me and I want them to leave me alone so I can get on with my life in the 21st Century."
Traditional belief dictates that the ancestors should have a spiritual heir in every generation - those who ignore them will be blighted by bad luck or even physical or mental illness.
False revelations?
But it is not just the trappings of life in modern South Africa that deter Ms Mangwanyane from becoming a healer.
Her great-grandfather was "swallowed up by a river" when he was a young man but returned to his village six months later and became a healer.
Her grandmother and mother however, are firmly against the practice.
"Some dreams are not true dreams or revelations," her mother advised her. "The spirit that doesn't belong to your family could be very harmful."
The value of traditional practices in South African society is a contentious issue and some believe their practices could do more harm than good.
Soweto doctor Alfred Makhubela worries about the effect that traditional remedies have on patients, especially in the case of HIV sufferers.
He knows of a healer who made a mixture of herbs and rhino horn called "ubejan" which he claimed could cure Aids.
His patients reportedly saw an improvement in their health and delayed conventional treatment but this caused the disease to worsen.
He is also worried that the toxicity of herbal medicines are not tested or regulated in any way and could potentially damage patients' livers.
'Mumbo-jumbo'
Strangely, some healers agree with Dr Makhubela.
In his light-weight green suit jacket and designer sunglasses Mkhulu Nsingisa may seem an unconventional sangoma but he is a devout follower of the ancient tradition.
He has a refreshingly clinical approach to his practice and would like to see more government regulation as well as clinical understanding of the herbs that healers use.
"People think it's just mumbo-jumbo, something which is backwards and barbaric, yet that is the basis of our Western medicine. The source of these chemicals is these herbs."
But he acknowledges that there are faults in the practice.
"There are a lot of shady characters both in western and traditional healing practices. There are certain healers who say they have herbs that can boost your immune system. In my research there hasn't been a herb that one can claim cures Aids now," he says.
Mbulelo, a young man who lives in Soweto, knows all about these "shady" characters.
When he consulted a sangoma to treat a skin problem he was given a mixture to drink.
He visited the healer for a year, continually renewing his prescription at a cost of nearly 5,000 rand ($730; £450) - the equivalent of about five months of groceries in the household where he is the sole bread-winner.
When the mixture failed to have an effect he went to the local government hospital and the treatment that cured his problem cost him nothing.
Zandile, 21 had a very different experience. She visited a sangoma, unbeknown to her father who is an Anglican priest, to solve boyfriend troubles.
She wanted the healer to make her a "muti", a mixture that she could sprinkle in her boyfriend's food to make him spend more time with her.
Instead the healer talked through her problems and advised her to leave her boyfriend.
"I've always wanted to end it," she says triumphantly, "but I didn't have the courage, I still loved him. But now my heart is free."
'Spiritual diagnosis'
But for Ms Mangwanyane, the sangoma still represents something that is anathema to the life of a modern young woman.
After much deliberation she visited Gogo Ntintinti, a very traditional sangoma to finally undergo a "spiritual diagnosis".
Ms Ntintinti welcomed her into a small dark shed at the back of her house where the walls were lined with bottles of liquids, powders and mixtures that could be mistaken for the ingredients of a baker's dry store.
This is her "ndumba", the shrine where she launches into dialogue with the ancestors.
As Ms Mangwanyane sat on a small stool, the healer shook a handful of shiny bone fragments, scattering them on the red mat stretched out in front.
As the familiar drums pounded in her ears, she began to feel sick and to sweat profusely. As the drum beat rose to a crescendo she lost consciousness.
When she came to she was weak, clamouring for something to eat.
She stuffed slice after slice of dry white bread into her mouth.
"This is the right time, she is going to take her ancestors," Ms Ntintinti chanted as she cradled Ms Mangwanyane in her arms.
But Ms Mangwanyane was less than convinced and though she couldn't remember what had happened she was still eager to find another explanation.
Afterwards, she described what happened to Dr Makhubela.
"Trances happen", he explained. "It could be a form of epilepsy or a dip in one's sugar levels."
For now, this diagnosis is enough for Ms Mangwanyane - her ancestors will have to wait.
Some names have been changed