Ivory Coast: Pro-Ouattara forces 'to seal border'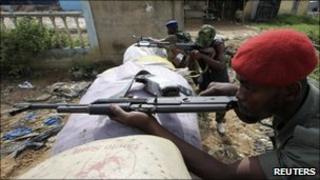 Forces loyal to Ivory Coast's UN-backed president-elect Alassane Ouattara say they have launched an offensive aimed at sealing the border with Liberia.
The ex-rebels have swept down from their northern powerbase and claim to have taken the western town of Duekoue.
They accuse rival leader Laurent Gbagbo of importing fighters from Liberia.
The pro-Ouattara fighters have also begun fighting in two other areas. The UN estimates one million people have already fled the violence.
Pro-Ouattara fighters, known as the New Forces, already control the north of the country and have taken four towns in the west.
If confirmed, Duekoue would be the fifth and biggest town to fall so far.
Pro-Gbagbo troops have lost every battle with the New Forces since last November's election, says the BBC's John James in the central town of Bouake.
He says they are also now struggling to contain a guerrilla force, known as the Invisible Commandos, who have taken control of the northern part of the main city, Abidjan.
Mr Gbagbo refuses to step down despite international observers saying Mr Ouattara won the election.
Seydou Ouattara, a military spokesman for Alassane Ouattara, told the Associated Press that his forces had taken Duekoue and had moved southwards to surround the town of Guiglo.
"Today's operation will prevent Gbagbo from recruiting and training Liberians as he has been doing," he said.
'Heavy fighting'
Officials from the army, which still backs Mr Gbagbo, confirmed that pro-Ouattara forces were trying to advance down to the western coast, but denied that they had taken Duekoue.
The army also confirmed there had been heavy fighting in the east and centre of the country, but said the ex-rebels had been repulsed in those areas.
On Monday morning, a Duekoue resident told the AFP news agency that many people had sought refuge at the Catholic mission.
"We hear heavy weapons fire, fighting is continuing. We are under the bed, we can't risk coming out," he said.
Meanwhile, in areas of the country under New Forces control, schools have reopened for the first time since the election.
They were closed as part of a campaign of civil disobedience aimed at forcing Mr Gbagbo from power.
At least 462 people have been killed since December, according to the UN, which has a 9,000-strong peacekeeping force in the country.
The UN has accused pro-Gbagbo forces of firing shells at pro-Ouattara areas of Abidjan, causing widespread civilian casualties.
Pro-Ouattara forces in Abidjan have also been accused of killing supporters of Mr Gbagbo.
France last week circulated a draft resolution at the UN calling for sanctions against Mr Gbagbo and his allies.
The European Union has already taken similar measures, leading banks to shut down and badly hitting the cocoa trade, which is one of Mr Gbagbo's main sources of revenue.