Tanzanian 'miracle' pastor Mwasapile calls for a break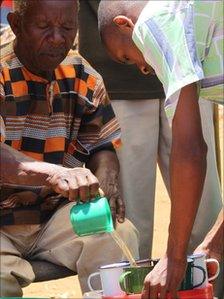 A Tanzanian pastor has asked people to stop going to his remote home for a "miracle cure" after thousands flocked there, causing chaos in the surrounding area.
Rev Ambilikile "Babu" Mwasapile, 76, says he does not want any new arrivals until after Friday 1 April, to let the crowds die down.
Local media report that about 52 people have died while waiting to see him.
A BBC reporter says the queues to see him stretch for 26km (16 miles).
Belief in magic and the powers of traditional healers are widespread in Tanzania.
Some witchdoctors say that the body parts of people with albinism are effective when making magic charms, leading to the killing of dozens of albinos in recent years.
In 2009, the government outlawed all witchdoctors and traditional healers.
But on Monday, Prime Minister Mizengo Pinda said he would not take any action to stop Mr Mwasapile's activities.
Mr Mwasapile's concoction is made from herbs and water, which he sells for 500 Tanzanian shillings (30 cents; 20p).
When she visited Mr Mwasapile's home near the northern Loliondo town recently, the BBC's Caroline Karobia found 6,000 people waiting to see the retired Evangelical Lutheran Church of Tanzania (ELCT) pastor.
They are waiting for days by the roadside and outside his home in Samunge village without shelter, clean water or toilets.
As word has spread in the past month of the pastor's supposed ability to cure any ailments, some people have even been taken out of hospital by their relatives who believe they are more likely to be cured by Mr Mwasapile.
Some of these have died before seeing him, while others are reported to have died after taking his concoction.
Health Minister Haji Hussein Mponda told the BBC that tests had shown that the mixture was safe for human consumption.
He said tests were now being conducted to see if it has any medicinal properties.
Extra police have been deployed to the area to control the huge crowds, some of whom have travelled from neighbouring countries such as Kenya and even further afield.
Mr Mwasapile asked for the break following a meeting with local officials.