Ivory Coast: One million refugees feared, UNHCR says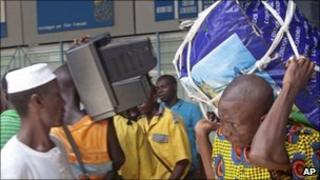 Up to one million people may have fled their homes because of violence following Ivory Coast's disputed elections, the UN refugee agency says.
The UNHCR says most had run away from recent violence in Abidjan.
Aid agencies are said to be unable to reach parts of the west where forces loyal to disputed President Laurent Gbagbo have been losing ground.
France has circulated a draft resolution at the UN calling for sanctions against Mr Gbagbo.
This follows a calls for UN sanctions and tougher action to oust him by West African leaders.
Fear of war
Mr Gbagbo is resisting calls for him to cede power to his rival, Alassane Ouattara - widely recognised as the winner of last year's election in the world's largest cocoa producer.
"The massive displacement in Abidjan and elsewhere is being fuelled by fears of all-out war," said UNHCR spokeswoman Melissa Fleming at the agency's headquarters in Geneva.
She pointed out that the estimate of up to a million displaced was double the figure from just a week ago.
Ivory Coast's population is about 22 million.
Many of those fleeing are migrants from Ivory Coast's poorer northern neighbours, who went there looking for work when it was West Africa's economic powerhouse.
Some of Mr Gbagbo's supporters have accused the migrants and their descendents of backing Mr Ouattara and some have been singled out for attack.
Banks closed
Meanwhile, a UNHCR spokesman in Abidjan has accused mercenaries from neighbouring Liberia of taking advantage of the lawlessness to loot, rape and kill in the Guiglo region, not far from where the pro-Ouattara New Forces former rebels seized the town of Blolequin earlier this week.
"They are neither pro-Gbagbo nor pro-Ouattara, they are merely profiting from the situation," Jacques Franquin told the AFP news agency.
"Guiglo is in a lawless zone, there is no functioning police, everyone does what they want."
French President Nicolas Sarkozy urged the UN to impose sanctions against Mr Gbagbo and his allies.
Reuters news agency says the draft resolution includes a travel ban and assets freeze.
European Union and African countries have already taken such measures, which have led banks to cease work in Ivory Coast and severely hampered the cocoa trade and Mr Gbagbo's ability to pay civil servants.
The draft resolution is also believed to call for a ban on heavy weapons in the main city, Abidjan.
The 9,000-strong UN mission in Ivory Coast has accused pro-Gbagbo forces of firing shells at pro-Ouattara areas, causing widespread civilian casualties.
Some 52 people have been killed in Abidjan alone this week, meaning 462 have died since the stand-off began in December, according to the UN.
Mr Gbagbo's allies say some of the accusations have been made up and accuses France of using the international community to oust him.
France retains strong economic ties to its former colony.
Pro-Ouattara forces in Abidjan have also been accused of killing supporters of Mr Gbagbo.
The election was supposed to reunify the country which has been divided since a 2002 civil war.
The New Forces remain in control of northern Ivory Coast.
They have recently gained some ground in the west, but most of their forces remain to the north of the 2003 ceasefire line.