Nigeria election: Jonathan rivals pull out of TV debate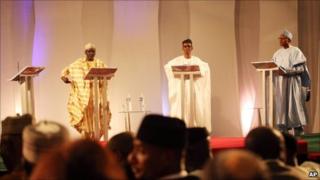 Nigeria's three main opposition candidates have pulled out of election debates with President Goodluck Jonathan, accusing him of "arrogance".
The three - Nuhu Ribadu, Muhammadu Buhari and Ibrahim Shekarau - are suspicious that he will take part only in a live TV debate largely organised by state-run media.
A BBC correspondent says the boycott is embarrassing for Mr Jonathan.
He is favourite to win the 9 April poll in Africa's biggest oil exporter.
Mr Jonathan refused to take part in a debate last week, organised by NN24 TV, saying he would participate only in one scheduled for next Tuesday run by the Broadcasting Organisation of Nigeria.
His opponents say they are "suspicious" of his relationship with this body, which mostly comprises state-run broadcasters.
"He has arrogantly shunned the credible debate for which we made ourselves available," they said in a joint statement, insisting they had "bent backwards" to accommodate him.
The BBC's Caroline Duffield in Lagos says Mr Jonathan is a poor public speaker.
It is clear that his advisers want to shield him from the media as much as possible, she says.
Mr Jonathan is the candidate of the People's Democratic Party which has won every national poll since military rule ended in 1999.
But his candidacy was opposed by some party power-brokers, who say a northerner should have been the party candidate instead of Mr Jonathan, who is from the southern, oil-producing Niger Delta region.
The former vice-president inherited power last year when President Umaru Yar'Adua died.
Previous elections have been marred by widespread violence and allegations of fraud.
Some of the promised electoral reforms have been implemented ahead of next month's elections but not enough to satisfy the opposition.
Elections for the National Assembly are due on 2 April.