Ivory Coast: Ecowas wants more UN action on Gbagbo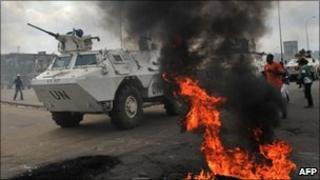 The 9,000-strong UN force in Ivory Coast should have a tougher mandate to help oust Laurent Gbagbo from power, West African leaders say.
At a summit in Nigeria, they also said the UN Security Council should tighten sanctions on Mr Gbagbo and his allies.
The African Union had given Mr Gbagbo a deadline of Thursday to step down but has not said what it will do next.
Alassane Ouattara is widely recognised as the winner of last year's election in the world's biggest cocoa producer.
The UN says that 462 people have been killed in violence linked to the election dispute and about 500,000 forced from their homes.
The election was supposed to reunify the country which has been divided since a 2002 civil war.
The UN force in Ivory Coast should have the powers "to protect life and property and to facilitate the immediate transfer of power to Mr Alassane Ouattara", said a statement from the 15-member West African regional body, Ecowas.
Some African leaders have questioned why the world's powers have used military force in Libya but not Ivory Coast.
The financial sanctions against Mr Gbagbo and his allies have led to banks closing in the country.
Mr Gbagbo's allies accuse the UN, its mission in Ivory Coast and the international community of being biased against him.
They say that attacks on their supporters are ignored, while a lot of attention is paid to violence against supporters of Mr Ouattara.
The UN says 52 people have been killed in the past week, mostly from shelling which it has blamed on supporters of Mr Gbagbo.
Mr Gbagbo's allies, have however, said its investigations showed that no-one died in the incident.
There are fears that if the stalemate is not resolved, Ivory Coast could descend into war.
The former rebel New Forces, who support Mr Ouattara, remain in control of northern Ivory Coast.
They have recently gained some ground in the west, but most of their forces remain to the north of the 2003 ceasefire line.