Kenyan forces 'cross Somali border to fight al-Shabab'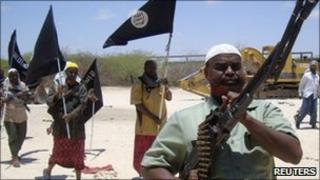 Kenyan forces have crossed into Somali territory to fight al-Shabab militants, an official source has told the BBC.
However, the reports were denied by a police spokesman.
Twelve militants were killed in the raid near the border town of Liboi, Kenya's Standard newspaper reports.
Kenya supports the Somali government and has helped trained its forces but if confirmed, this would be the first time Kenyan officers have crossed the border.
The raid was carried out by the police General Service Unit in the wake of recent militant attacks on the Kenyan side of the border, the Standard says.
Al-Shabab has previously threatened to stage attacks in Kenya but none have been carried out.
Last year, al-Shabab said it was behind a double attack on the Ugandan capital, Kampala, which killed at least 76 people, in revenge for Uganda sending troops to help the Somali government.
Al-Shabab, which has links to al-Qaeda, controls much of southern and central Somalia.
The government, backed by some 9,000 African Union troops from Uganda and Burundi, has this year gained some ground in the capital, Mogadishu.
Somalia has been wracked by constant war for more than 20 years - its last functioning national government was toppled in 1991.