Libya: Gaddafi forces keep up assault on rebel cities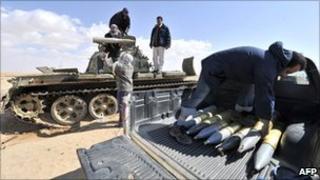 Fighting between rebels and forces loyal to Libyan leader Col Muammar Gaddafi has been continuing in key cities after a fifth consecutive night of air strikes by international forces.
Overnight, several loud explosions were heard in the capital, Tripoli.
In the rebel-held city of Misrata, east of Tripoli, government tanks have been shelling the area near the hospital.
A French fighter has shot down a Libyan air force jet which was violating the no-fly zone, ABC News has reported.
There have also been reports of fierce fighting between rebels and pro-Gaddafi forces in strategic Ajdabiya.
Residents fleeing the town described shelling, gunfire and houses on fire.
Air strikes
There are reports of Western air strikes hitting the Tajura district of the capital, Libyan military sources and media have said.
And the French military has said French air strikes hit a Libyan air base in the interior of the country overnight.
The strikes hit a base about 250km (155 miles) south of the Libyan coastline, French military spokesman Col Thierry Burkhard told reporters. He did not give any further information on the location of the target or the damage.
Later on Thursday, Western military planes were reported to have hit the town of Sebha in southern Libya, according to residents and media reports.
Sebha, about 750km (480 miles) south of Tripoli, is a Gaddafi stronghold and home to an important military base.
An explosion was also reported overnight at a military base in the Tajura region east of Tripoli. Residents in the capital earlier said plumes of black smoke could be seen coming from an area near a military base, although this has not been independently confirmed.
Tanks return
In Misrata, Libya's third-largest city, witnesses had said on Wednesday that tanks had pulled back from their positions under air assault from international forces.
But later, residents said the tanks had rolled back into the city and resumed shelling.
Misrata resident Muhammad told the BBC many large explosions were heard overnight in the city: "Even now we continue to hear the aeroplanes circling the air above Misrata right now...
"Our major problem in Misrata is with the snipers. Gaddafi's forces have occupied the main street... which stretches from the town centre all the way to the highway and beyond. There are snipers all along the rooftops of that street. They are firing indiscriminately into the main street and the back streets. But the heavy artillery and shelling has stopped since yesterday [Wednesday]. In that sense, we are in a much better position."
Another resident has said pro-government forces have seized control of the city's port, where there are thousands of stranded foreign workers seeking to leave, Reuters news agency reported on Thursday.
The same resident has said Western air strikes hit government tanks on the outskirts of the city late on Wednesday, but tanks inside the city remain there and have not been hit.
Misrata has been besieged for several weeks, with reports that more than a dozen people were killed in the latest clashes.
It may take the coalition of international powers days or weeks to destroy Col Gaddafi's military, but it will not require months, French Foreign Minister Alain Juppe has told reporters.
Earlier, the US chief of staff for the mission in Libya insisted there had been no reports of civilian casualties caused by allied action.
Rear Admiral Gerard Hueber's comments came despite claims to the contrary by Col Gaddafi's government.
Operational control
Earlier, British Air Vice Marshal Greg Bagwell said Col Gaddafi's air force no longer existed as a fighting force.
AVM Bagwell said the allies could now operate "with near impunity" over the skies of Libya and were now applying unrelenting pressure on the Libyan armed forces.
"We are watching over the innocent people of Libya and ensuring that we protect them from attack," he said. "We have the Libyan ground forces under constant observation and we attack them whenever they threaten civilians or attack population centres."
His comments came as Nato members debated who should lead the intervention, with the US keen to hand over operational control to Nato.
Nato members have been holding talks about assuming responsibility for the no-fly zone over Libya, so far without agreement.
Turkey is an integral part of the naval blockade, but has expressed concern about the alliance taking over command of the no-fly zone from the US.
US Secretary of State Hillary Clinton has again urged Col Gaddafi to step down and leave Libya.
UN Secretary General Ban Ki-moon has urged all sides in Libya to cease hostilities. "All those who violate international humanitarian and human rights law will be held fully accountable," his spokesman Martin Nesirky said.
US Defence Secretary Robert Gates is in the Egyptian capital, Cairo, for talks on both Libya and Egypt's hoped-for transition to democracy following the fall of Hosni Mubarak.