Ivory Coast: UN warns of forgotten humanitarian crisis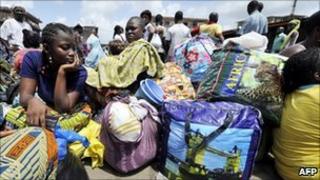 As the world focuses on Libya and Japan, UN aid agencies are warning that Ivory Coast is rapidly becoming a forgotten humanitarian catastrophe.
About 500,000 people have fled violence there - but a UN appeal for funds to help them has met with little response.
There has been fighting between forces loyal to Laurent Gbagbo, who is refusing to step down as president, and those of his rival, Alassane Ouattara.
The UN recognises Mr Ouattara as the winner of November's presidential poll.
'Extremely trying time'
UN aid agencies are already struggling with serious security issues in their operation in Ivory Coast - now they have serious funding problems too.
An appeal for $32m has received just $7m so far.
For the World Food Programme, the situation is even worse.
"No funding for the $16m we need to buy food on the market to get it into Ivory Coast," said spokeswoman Emilia Casella.
"We've been calling on our donors really to understand that they have to pay attention to all the crises going on in the world."
"This is an extremely trying time for everyone, but if we cannot get funding for our Ivory Coast and Liberia operations now, we are not going to be able to buy the food and acquire it for the people who need it, even three or four months down the road."
Following the shelling of an Abidjan market last week, in which at least 25 people died - an act the UN says may be a war crime - aid workers say the city is emptying as desperate inhabitants, many of them women and children, try to flee. Most are taking nothing with them.
Meanwhile, the UN has almost nothing to give them - a totally unacceptable situation, aid agencies say - as Ivory Coast descends into what some are already calling civil war.