Daryl Peense tried for 'spilling drink' on Jacob Zuma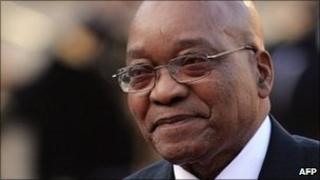 A South African man has gone on trial for assault after allegedly pouring his drink on President Jacob Zuma.
Racehorse owner Daryl Peense, 31, told the court he admitted spilling his whisky but said it was an accident, he was drunk and Mr Zuma did not get wet.
A presidential bodyguard said he saw Mr Peense pour a drink from the balcony on to the president's entourage during a race meeting in Durban last July.
The bodyguard, Funani Edgar Nemaenzhe, suggested that it was intentional.
He told Durban magistrates' court that another guard had used his jacket to protect the president, reports the South African Press Association.
Mr Nemaenzhe said Mr Peense had smelled of alcohol and could not walk straight when arrested.
The defendant's lawyer pointed out that the president had not lodged a complaint.
"The accused didn't intend to cause injury to the president nor to impair his bodily integrity in any way," said Jimmy Howse.