Libya air strikes: China 'regrets' West's use of force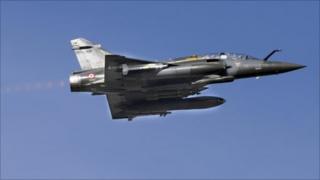 The Chinese government regrets foreign military action in Libya, a foreign ministry spokeswoman has said.
The media has been even more critical of the air attacks carried out by Western military forces.
The People's Daily, the mouthpiece of the ruling Communist Party, has linked the issue to Iraq, using colourful language.
The blood-soaked tempest that Iraq had undergone over the last eight years was a warning, it said.
The paper went on to suggest that military action undermined the charter of the United Nations.
China often says countries should not interfere in each other's internal affairs, but this policy is not always easy to follow. As the country grows stronger, it gets increasingly drawn into what goes on in the rest of the world.
Its attitude towards Libya illustrates this contradiction. It might criticise the West now, but it did not veto the UN resolution that led to the action in the first place.
China's Middle East envoy will visit the region later this week to discuss the latest developments.