Tripoli eyewitness: In fear of Gaddafi's secret police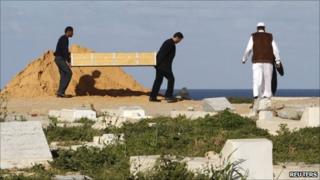 As the West bombards Libyan government forces in support of a UN resolution, fear and suspicion pervades life in the capital. One Tripoli resident - who did not want to be identified for his own safety - describes the mood.
A sense that "time is not on our side" is running through the city, not just for opponents of the regime but also - it would appear - for the regime itself and its devoted legion of supporters who seem available around the clock to take to the streets and wave posters of Col Muammar Gaddafi, or "offer" themselves as human shields at his residence.
When the UN resolution for a no-fly zone was adopted, the regime's opponents in the capital - and there are plenty of them - were rejoicing at home - away from the eyes and ears of the informers and secret police deployed across the city.
"Finally," one said. "When will they start implementing it?" another impatiently cried.
It didn't take long. As I write this on a chilly Sunday night, I can hear a barrage of anti-aircraft artillery being fired. It was a similar scenario on Saturday.
'Word travels fast'
As we watched the news channels report on the missile strikes by the US against a military defence target near Tripoli, several friends in different parts of the city told me they saw ambulances driving around the city in circles - seemingly aimlessly - with their sirens on.
They believe the government was attempting to cause panic among residents here and "give the illusion that there are casualties somewhere".
Not surprisingly perhaps, we soon saw reports on Libyan state TV claiming dozens of civilian casualties.
I recall a time when the mood on Arab streets - not least in Libya - was one of anger and disbelief at reports of civilian casualties at the hands of US strikes in Iraq and Afghanistan.
In contrast, I found myself surrounded by people here scoffing at the local reports.
"They are lying. We would have heard by now if there were any civilians hurt. Everyone knows everyone here, and word travels fast," some said the next day.
"So, the regime has finally made use of the dead bodies they gunned down here and then snatched from streets and hospitals," another one offered.
'The men of Bengahzi'
There is a joke circulating amongst Tripoli's men: "When Libya is liberated, our brothers in Benghazi will march to the capital with containers of women's underwear to distribute to us."
They collapse in laughter as they tell the tale and sip on their coffee.
At least one woman in Tripoli has expressed a similar view, but this was no gag, as far as I'm aware. The incident was witnessed by my relative's friend at a bank in the Souk al-Jumaa district.
An old woman, in her late 70s at least, I'm told, entered the bank to collect her 500 Libyan dollars ($410; £253) in state aid announced a couple of weeks ago.
There were two long queues - one for men and one for women. She stood in the men's queue.
The men urged her to move to the women's section. "Why?" she challenged.
A man told her: "Ya haja [a term of respect for an elderly woman] this line is for men, women is the other one".
She loudly replied: "No. All the men are in Benghazi."
The room is said to have been stunned into silence and she remained in her place until her turn came and she walked out with her money.
It is perhaps a bittersweet private reminder of how frustrated many here are at the lack of efforts in Tripoli in recent weeks to defy the regime and take to the streets.
However it is also placated by the fact that they did try - twice - and were met with a force so brutal that they conceded it was simply a suicidal task. There is considerable anger brewing behind closed doors here in Tripoli.
'Beaten and kicked'
My friend was detained earlier this week by armed men, for no apparent reason.
He was blindfolded and taken from a location that will remain undisclosed for his own safety.
He says he was detained by members of the fiercely pro-Gaddafi Khamis brigade.
"I was shoved into the back of a Land Cruiser and every time we approached what was probably a checkpoint they would shout at the security officers manning them to "move away".
He was held for 24 hours and then released.
He was taken to two detention centres; the first one a prison in Ein Zara on the outskirts of Tripoli - where he spent the night - and the second in Salaheddine the next day where he was interrogated.
"I was beaten on the back, kicked around when they threw me on the floor and slapped countless times during interrogation," he recounts.
"There was at least 100 other men - young and old - in both facilities I was taken to, not just Libyans but Egyptians too.
"I could hear people shouting and screaming. One of the men around me told me he was from Zuwara and asked that I try to get the message out to his family there that he is alive - if I were to be released."
There were also two brothers being held there, he recalls, and one of them was blind.
"They said that their father was killed during the protests in the Souk al-Jumaa district and they were picked up from their home and brought to the prison in Ein Zara two weeks ago," he says.
Sombre mood
My friend was ultimately lucky - he got out - while others continue to just disappear after detention with no information available to their families.
My relative tells me of one of her friends. Her husband has been missing for two weeks now, he is 62 years old and was picked up from their home by men in plain clothes.
We hear stories of this nature almost on a daily basis.
It almost seems like everyone knows someone who has been beaten, detained for a day or two or "disappeared".
Three hours ago, I learnt that another friend of mine from Tajoura district has been detained since Friday.
I learnt this through a mutual friend who I went to see in an effort to lighten the sombre mood that has plagued most residents of the capital the past month.
Mission not accomplished.