South Sudan: SPLA and Athor clashes 'kill scores'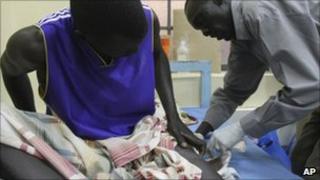 Two days of fighting between the South Sudan army and rebels have killed about 70 people, officials say.
The clashes between the SPLA and fighters loyal to rebel leader George Athor have broken out in three states.
After similar clashes last week, the southern government accused the north and President Omar al-Bashir of trying to destabilise it.
South Sudan is due to declare independence in July, following decades of north-south conflict.
Some 99% of South Sudanese voters backed secession in January's referendum, which was part of a 2005 peace deal.
"The fighting was very heavy, but the rebels are now being pursued," said SPLA spokesman Philip Aguer, reports the AFP news agency.
He said 34 SPLA soldiers and 36 rebels had been killed.
Fighting broke out in Unity and Upper Nile states on Thursday, before continuing in Jonglei state on Friday, Col Aguer said.
The SPLA has been trying to track down the rebel forces who carried out a raid on the major town of Malakal last week.
Following that attack, the SPLA southern government said it was suspending talks with the north about secession.
It accused the northern military intelligence of arming southern militias in order to topple the SPLA.
The north denied the charges and President Bashir has repeatedly said he will accept the independence of the oil-rich south.
Gen Athor went into rebellion after losing last April's election to be governor of Jonglei state, which he contested as an independent candidate.
His group signed a ceasefire just before the referendum but fighting resumed in February and hundreds have been killed.
His rebellion appears to be spreading, and represents a growing concern for the southern authorities as they prepare for independence, correspondents say.
Both Sudan and the South are reliant on their oil revenues, which account for 98% of South Sudan's budget. But the two countries cannot agree how to divide the oil wealth of the former united state. Some 75% of the oil lies in the South but all the pipelines run north. It is feared that disputes over oil could lead the two neighbours to return to war.
Although they were united for many years, the two Sudans were always very different. The great divide is visible even from space, as this Nasa satellite image shows. The northern states are a blanket of desert, broken only by the fertile Nile corridor. South Sudan is covered by green swathes of grassland, swamps and tropical forest.
Sudan's arid north is mainly home to Arabic-speaking Muslims. But in South Sudan there is no dominant culture. The Dinkas and the Nuers are the largest of more than 200 ethnic groups, each with its own languages and traditional beliefs, alongside Christianity and Islam.
The health inequalities in Sudan are illustrated by infant mortality rates. In South Sudan, one in 10 children die before their first birthday. Whereas in the more developed northern states, such as Gezira and White Nile, half of those children would be expected to survive.
The gulf in water resources between north and south is stark. In Khartoum, River Nile, and Gezira states, two-thirds of people have access to piped drinking water and pit latrines. In the south, boreholes and unprotected wells are the main drinking sources. More than 80% of southerners have no toilet facilities whatsoever.
Throughout the two Sudans, access to primary school education is strongly linked to household earnings. In the poorest parts of the south, less than 1% of children finish primary school. Whereas in the wealthier north, up to 50% of children complete primary level education.
Conflict and poverty are the main causes of food insecurity in both countries. In Sudan, many of the residents of war-affected Darfur and the border states of Blue Nile and South Kordofan, depend on food aid. The UN said about 2.8m people in South Sudan would require food aid in 2013. The northern states tend to be wealthier, more urbanised and less reliant on agriculture.