Daily News returns to Zimbabwe's streets after ban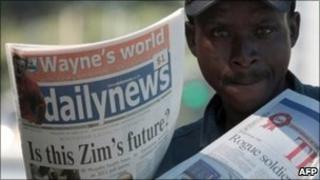 The Daily News, once Zimbabwe's best-selling paper, is again on sale after being banned for eight years following criticism of President Robert Mugabe.
Its editorial says it will "take a critical stand against bad governance".
Before being banned in 2003, its printing press was blown up and its journalists arrested on numerous occasions.
Relaxing strict press controls was a condition for the former opposition to join the unity government in 2009.
But tension is rising between Mr Mugabe and his rival, Prime Minister Morgan Tsvangirai, ahead of elections which could take place this year.
Both men have said the power-sharing government is no longer working.
Mr Tsvangirai's Movement for Democratic Change says its activists are being harassed by state security agents.
Zimbabwe's media remains dominated by state-owned outlets, which generally praise Mr Mugabe and criticise Mr Tsvangirai.
There are no privately owned television or radio stations in the country.
The Daily News will become only the second privately owned daily newspaper in the country when it starts full-time operations on 25 March.