Libya unrest: West moves to enforce no-fly zone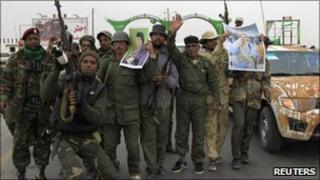 Western powers are discussing how to enforce a no-fly zone over Libya after the passage of a UN resolution backing "all necessary measures" to protect civilians, short of an occupation.
France said there could be air strikes "within hours", though the details and timing of any action remain unclear.
Forces loyal to Col Muammar Gaddafi have been advancing eastwards towards the rebel stronghold of Benghazi.
They were also said to be bombarding the city of Misrata on Friday.
Col Gaddafi has promised to retake Benghazi, saying his forces would show "no mercy".
The BBC's Ian Pannell in eastern Libya says government troops are battling rebels forces in the coastal town of Al-Zuwaytina, which lies between Ajdabiya and Benghazi.
The rebels say they have lost a number of fighters and that civilians have also been killed, he reports.
'Unfair'
It is not thought that the US would be involved in the first strikes. The British and French, along with some Arab allies, are expected to play a leading role. Norway has said it will also participate.
French government spokesman Francois Baroin said on Friday morning that strikes could take place "rapidly" and "within a few hours". But he added: "You will understand that there's no question of talking as early as this morning about when, how, which targets or in which form."
British Prime Minister David Cameron said that "in the coming hours", Britain would send Typhoon and Tornado fighter jets, as well as air-to-air refuelling and surveillance aircraft, to airbases "from where they can start to take the necessary action".
Qatar will take part in international efforts to protect civilians, Qatar's official news agency reported, though it was not clear if this included military operations.
In other developments:
Libya denied a report from Europe's air traffic agency, Eurocontrol, that it had closed its airspace, AFP news agency reported. But Eurocontrol said all civilian flights to Libya would be banned
Nato is due to "discuss the implications of the resolution and advance planning for all eventualities" on Friday
France is to host a meeting of delegates from the Arab League, African Union and the European Union on Saturday. UN Secretary General Ban Ki-moon is expected to attend
Clashes were also reported in the western towns of Nalut and Zintan.
UN Security Council Resolution 1973 is so broad that it allows military action against all threats to civilians, and could involve bombing Col Gaddafi's forces on the ground if deemed necessary.
Rebel forces in Benghazi reacted with joy to the UN resolution, but a government spokesman condemned UN "aggression". One of Col Gaddafi's sons, Saif al-Islam, said the resolution was "unfair" as Libya had not been bombing civilians.
Following the UN vote, US President Barack Obama called the French and British leaders to discuss the next move. They said Libya had to comply immediately with the resolution.
"Given the critical situation on the ground, I expect immediate action on the resolution's provisions," said Ban Ki-moon.
BBC diplomatic correspondent Jonathan Marcus says signals from Paris that air operations could be imminent may be an attempt to keep Col Gaddafi guessing.
US officials said an attempt to ground Col Gaddafi's air force could begin on Sunday or Monday.
'Strong message'
The 15-member UN Security Council approved the resolution on Libya late on Thursday 10-0, with five abstentions.
Russia and China - which often oppose the use of force against a sovereign country as they believe it sets a dangerous precedent - abstained rather than using their power of veto as permanent members.
The US ambassador to the UN, Susan Rice, said it sent a "strong message" to Col Gaddafi "that the violence must stop".
Germany, which abstained, will not be contributing to the military effort. Foreign Minister Guido Westerwelle said his government sees "considerable dangers and risks" in military action against Col Gaddafi.
Russia also said it would not participate in any military action, Russian news agency Interfax reported.
The Libyan military has warned that civilian and military activities in the Mediterranean would become "the target of a Libyan counter-attack" following any foreign operation.
The BBC's Allan Little reports from Tripoli that if there is opposition to the regime there, it has been silenced, either by fear, or by the prevailing atmosphere of patriotism.
He says there is dismay and anger at the UN decision, with many seeing the rebellion in the east not as a popular uprising against dictatorship but as a criminal enterprise supported by foreign powers and aimed at plundering Libya's oil.
Col Gaddafi has ruled Libya for more than 40 years. An uprising against him began last month after long-time leaders of neighbouring Tunisia and Egypt were toppled.