Last 'Egypt video' Zimbabwe activists get bail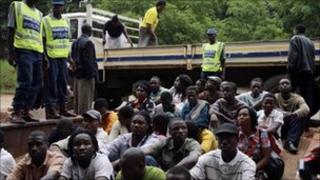 A Zimbabwe court has granted bail to six activists accused of treason for attending a lecture about the Egypt uprising.
The lecture asked "what lessons can be learnt" - which the prosecution says means they were planning a similar revolt.
But High Court Judge Samuel Kudya ruled on Wednesday the evidence was "bold and unsubstantiated".
They reportedly remain in custody while the $2,000 (£1,250) is raised.
The group of activists, trade unionists and students have denied any wrongdoing, saying the meeting was an academic lecture on democratic rights.
Treason carries a death sentence in Zimbabwe.
Charges have already been dropped against a further 40 activists arrested at the same time.
It was initially reported that 38 people had been freed on 7 March.
Judge Kudya - in his ruling in Harare - said the state prosecutors had failed to prove that the activists were a threat to Zimbabwe's safety.
"I see no iota of evidence that any Zimbabwean ever contemplated any Tunisian- or Egyptian-[style] revolution," he said
Supporters of the group attending the hearing cheered and wept with joy as the ruling was delivered.
Their families have told the BBC that they hope to raise the bail money and secure the men's release on Thursday.
They were arrested on 19 February following a lecture by former opposition lawmaker Munyaradzi Gwisai.