Libya: G8 fails to agree on no-fly zone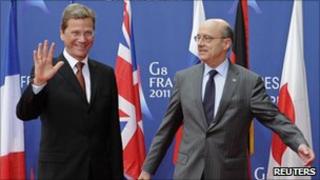 G8 foreign ministers meeting in Paris have warned Libyan leader Col Gaddafi he could face "dire consequences" but have failed to agree to a no-fly zone.
Germany and Russia were said to oppose British and French plans aimed at halting the advance of Col Gaddafi's forces against rebels in the East.
German Foreign Minister Guido Westerwelle warned of a risk of being "sucked into a war in North Africa".
France said it expected a UN resolution backing the rebels this week.
Reports from the UN in New York said a text was being drafted by British, French, Lebanese, US and German diplomats and was due to be circulated among the 15 members of the Security Council.
Arab League backing
In their final communique, the group of eight world powers warned the Libyan leader to "respect the legitimate claim of the Libyan people to fundamental rights, freedom of expression, and a representative form of government".
At the weekend, the Arab League backed calls for a no-fly zone although French Foreign Minister Alain Juppe accepted that efforts at the G8 had failed to achieve broad agreement.
The US and Russia are both known to want more details of any proposed flight restrictions.
Russian Foreign Minister Sergey Lavrov said the Arab League had not "formalised" its decision to back a no-fly zone on Saturday, adding that it had stated in the same declaration that it was "categorically opposed to any foreign intervention, particularly military intervention, in Libyan affairs".
Italian Foreign Minister Franco Frattini said the proposal would not be sufficient to bring the violence to an end.
Mr Juppe did not say what the focus of a UN resolution would be but British Foreign Secretary William Hague said there was a "common appetite" for further discussion at the UN and a general agreement of the need for an urgent response.
Sarkozy 'gone mad'
French attempts to push for a no-fly zone have met with a derisive response from Muammar Gaddafi who has given a 40-minute interview with German TV in which he singled out President Nicolas Sarkozy for criticism.
"He is my friend but I think he has gone mad. He is suffering from a psychological illness," he told RTL journalist Antonia Rados.
Col Gaddafi added that he no longer trusted the West, apart from Germany. "We are going to invest in Russia, India and China now. That's where our money is going to be invested," he said.