G8 leaders consider Libya no-fly zone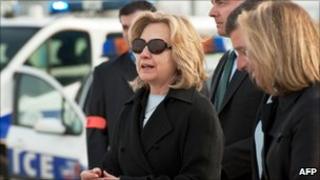 Foreign ministers from the Group of Eight major world powers are meeting in Paris to consider whether to back calls for a no-fly zone over Libya.
Britain and France are spearheading moves to prevent further air attacks on rebels by forces loyal to Col Gaddafi.
The Arab League supports a UN mandate but Russia has so far opposed military intervention and the US, Italy and Germany have also voiced reservations.
The UN Security Council is expected to consult on the proposal later.
Rebel leaders have appealed for international help in limiting Col Gaddafi's resources as his forces maintain their onslaught on rebel positions in the east of Libya.
But diplomatic sources have told the BBC that no UN resolution is on the table yet and discussions will centre on a "broad range" of issues that might be part of a new security council resolution, not just a no-fly zone.
US Secretary of State Hillary Clinton was due to meet French Foreign Minister Alain Juppe in Paris late on Monday afternoon.
Before they met, US officials denied a report suggesting a decision on supporting intervention on the ground had already been made. "That is a decision, a political decision ultimately, that has not been taken," Pentagon spokesman Geoff Morrell told US TV network MSNBC.
Among the biggest opponents of a no-fly zone is Turkey whose Prime Minister Recep Tayyip Erdogan told an international forum in Istanbul on Monday that intervention might be "counter-productive" and could have "dangerous consequences".
Although not a member of the G8, Turkey is part of Nato, which is expected to consider a no-fly zone on Tuesday.
British Foreign Secretary William Hague told BBC Radio that while a UN Security Council resolution was the "cleanest and simplest" way of securing a legal foundation for military intervention, countries were entitled under international law "in cases of great, overwhelming humanitarian need".
Mr Hague said that if Col Gaddafi were able to recapture much of the territory lost to rebel forces then it would be a "long nightmare for the Libyan people".
The G8 is made up of the US, Russia, Britain France, Germany and Italy, along with Canada and Japan.
Although much of the Paris meeting will be taken up by the issue of intervention in Libya, the foreign ministers will also discuss the Japanese earthquake and its aftermath.
Japanese Foreign Minister Takeaki Matsumoto is due to have separate meetings with his Russian, US and French counterparts.