Ivory Coast crisis: 'Nearly 450,000 refugees'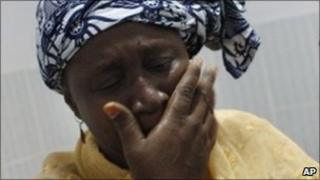 More than 450,000 people have fled their homes because of the crisis in Ivory Coast, the UN refugee agency says.
Dead bodies were being eaten by dogs in the streets of the main city, Abidjan after recent fighting, a UNHCR spokeswoman told the BBC.
Alassane Ouattara, widely recognised as the winner of last year's poll, has gone to regional powerhouse Nigeria to get help ousting his rival.
Laurent Gbagbo refuses to cede power.
There are growing fears that the situation could descend into civil war.
Former rebel forces who support Mr Ouattara still control the north while most of the army remains loyal to Mr Gbagbo.
Some 9,000 UN peacekeepers are in the country, monitoring a ceasefire line between the two forces.
However, the UN envoy to Ivory Coast has suggested that Mr Gbagbo may be losing control of some of the security forces.
Mr Ouattara flew to the Nigerian capital after the African Union endorsed him as the rightful winner of November's election.
The AU suggestion he share power with Mr Gbagbo - an option vehemently rejected by Mr Gbagbo's allies.
'Desolate scenes'
Some 370,000 people have fled their homes in Abidjan, while a further 77,000 have crossed into neighbouring Liberia, according to the UNHCR.
It said the "unfolding tragedy" in Ivory Coast had been overlooked while international attention has been focused on North Africa.
"We're seeing a lot of desolate scenes like dead bodies still littering the streets of [Abidjan district] Abobo where's there's been a lot of violence for weeks," UNHCR spokeswoman Fatoumata Lejeune-Kaba told the BBC.
"The dead bodies [are] being eaten by dogs - these dogs are becoming dangerous so the humanitarian situation is really, really difficult right now," she said.
Mr Gbagbo accuses the UN of being biased against him and has banned their aircraft from flying over territory he controls.
This could make it difficult for Mr Ouattara to return to Abidjan when he leaves Nigeria.
It is the first time Mr Ouattara has left the hotel since the results were declared in December.
He has called for West African nations to take military action to oust Mr Gbagbo but there appears to be little appetite for this.
Last year's long-delayed elections had been supposed to reunify the country - once the richest in West Africa - which has been divided since a 2002 civil war.
The UN-backed electoral commission says Mr Ouattara won presidential elections in November, but the Constitutional Council overruled it, citing rigging in the north, where pro-Ouattara forces are in control.