Nigeria's Nuhu Ribadu in profile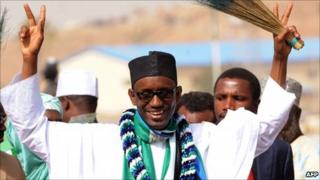 Nuhu Ribadu, one of the main challengers to President Goodluck Jonathan in the 9 April elections, is a folk-hero to millions of Nigerians.
But the quiet, graft-busting ex-policeman also provokes hostility and criticism - including from some of own supporters - over his decision to run for the Action Congress of Nigeria (ACN).
Back in his days as head of Nigeria's anti-fraud police, Mr Ribadu bought more than a thousand cases against politicians and tycoons accused of corruption.
But his standing was damaged by his acceptance of the ACN platform and with it, the questions that have long swirled around the party's boss, Bola Tinubu.
The Nigerian media report he currently faces charges of operating 16 foreign bank accounts during his time as Lagos State governor.
An ACN spokesman dismissed the allegations, saying: "He has not been charged to court, and he has not been convicted of any offence. He is a free man."
Throughout Mr Ribadu's campaign, his rallying cry has been his own credentials.
"The good people have been bending their backs, and the bad people have been riding on them," he told Nigerians.
"It is time for us to reclaim our country."
Mr Ribadu's success as the head of the Economic and Financial Crimes Commission bought him to public notice.
While his work was applauded by many Nigerians, he was also accused of allowing himself to be used as a political tool, pursuing only enemies of former President Olusegun Obasanjo.
A change of president in 2007 meant his investigations were threatening some of the new government's wealthiest backers.
Mr Ribadu was accused of failing to declare his own assets, suspended, stripped of his title, and sent on a training course.
In 2009, he left Nigeria, saying that his life had been threatened.
It was only when charges of impropriety were dropped, after the death of President Umaru Yar'adua and another charge of leader, that he came home.
Sense of justice
Few people who knew Mr Ribadu as a child are surprised he is now running for president.
His childhood friends and classmates recall a quiet, studious boy, with a hidden well-spring of passion, who surprised others with his sense of justice.
His schoolmate, Hamma Aliyu, recalls standing next to him in the school dinner queue.
"Our school cook prepared food for the exact number of pupils each day," he explains.
"But some boys would eat their dish, and secretly take up another clean plate, and return to the cook, claiming they had not yet eaten.
"Nuhu would declare loudly: 'What if some person has not yet had his meal? You are eating his share.'
He'd be furious," Mr Aliyu laughs.
Another school-friend, Usman Iya Abbas - who today works on his election campaign - remembers a teenager whom others looked to for help during playground arguments.
"We would say: 'Where is Nuhu?'
He was our judge, our mediator," he says. "If he knew you were in the wrong, he would say so, even if the boy was far bigger than he was.
"I remember him once crying out: 'You dare touch this person again, and I will join him in fighting you.'
"I saw his face. He was ready to jump on him," he recalls.
Damning poll
In spite of his international plaudits and 136,000 Facebook admirers, Mr Ribadu's campaign has had a bumpy ride.
There were the inevitable questions over whether the Ribadu war-chest would be sullied with dirty or looted money.
"I will never allow any tainted thing to come into my campaign," he insisted to the BBC.
"I want to see money from ordinary Nigerians coming in. I want little, little contributions."
That pledge shattered protocol in a political culture accustomed to politely avoiding discussions about party funding.
But other criticisms remained - that Mr Ribadu was a single-issue candidate, with few clear policies on trade, power, the economy or education.
Most damning of all, a recent poll published by the Nigerian civil society ANAP group, revealed that only 48% of Nigerians were even aware he was running for President.