'South African police lost 20,000 guns'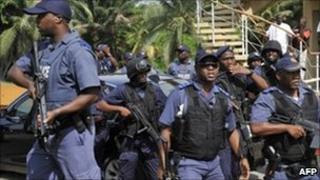 South Africa's police force has lost more than 20,000 firearms since 2004, a parliamentary committee has heard.
MPs questioning police officials about the losses urged the force to take urgent action against officers who lose their weapons.
They said they feared the guns were falling into the hands of criminals.
South Africa - which has a high violent crime rate - has over the years struggled to control the number of unlicensed firearms in the country.
'Careless'
The internal police report presented to members of the parliamentary police committee said the police had lost 20,429 weapons since April 2004.
The police described the report as "worrying" and attributed the losses to a lack of discipline.
The officials being questioned could not say how many police officers had been criminally prosecuted, disciplined or fired because of the losses - as required by law.
Gary Kruser, head of the police's procurement services, said that 4,810 of those weapons had been recovered in the last seven years.
The committee members said the police were being careless with government-issued guns.
"I am convinced that many murders are committed with police weapons," Diane Kohler Barnard, opposition MP from the Democratic Alliance, said.
Annelize van Wyk, from the ruling African National Congress (ANC), said laws seemed to be "stricter" for civilians than police officers.
"The Firearms Control Act puts a huge responsibility on citizens but an official can lose one weapon, a second and a third weapon and still keep his firearm licence. But if I lose my weapon, it is another matter," South Africa's Die Burger newspaper quoted her as saying.
ANC MP Sindi Chikunga said there was clearly a "laissez-faire attitude" in the police.
"Because [as a policeman] I know if I lose my weapon, I will get another one," she said.
It is unclear how many unlicensed weapons are circulating in South Africa.
Stricter gun laws were passed in South Africa in 2004 to combat the increase in illegal firearms.
The law requires people who apply for firearm licences to undergo a competency test - involving a basic training course at an accredited training institution and a background assessment by the police.