EU foreign affairs chief calls on world to shun Gaddafi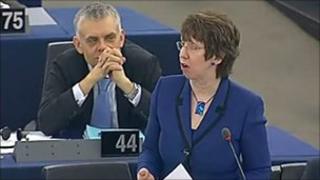 The EU foreign affairs chief, Baroness Ashton, has told Euro MPs that Libyan leader Muammar Gaddafi should be "sent back into the cold".
She was speaking at a passionate debate in Strasbourg in which MEPs heard calls for a no-fly zone and for opening borders to refugees.
Lady Ashton said she would discuss a no-fly zone with Nato on Thursday.
Pressed by MEPs to recognise Libya's rebel government, she said it was not within her mandate.
EU leaders are to meet for an extraordinary summit on Friday to discuss Libya and unrest elsewhere in the Arab world.
The 27-state bloc is expected to widen economic sanctions on Libya shortly.
Diplomatic sources say the Libyan Investment Authority (LIA), a huge sovereign wealth fund set up in 2006 to invest the country's oil revenues, is expected to be added to the list of sanctions.
The LIA owns assets throughout the world, including stakes in the Pearson publishing group and Italy's Juventus football club.
The EU decided last week to freeze the assets of Col Muammar Gaddafi and 25 other Libyans, and impose a visa ban on them with immediate effect.
Meeting with rebels
Having brought Libya's controversial leader "out of the cold in the past", Lady Ashton said, it was time for the international community to "send Gaddafi back into the cold".
She said she would attend talks on a no-fly zone and other measures at a meeting with Nato on Thursday.
But she said she could not, under her mandate, comment on calls for granting recognition to Libya's rebel government, the National Libyan Council (NLC).
Speaking to Lady Ashton on Tuesday, Mahmoud Jebril, head of the NLC's crisis committee, said the EU should recognise the council as the sole legitimate representative of the Libyan people.
Lady Ashton said the EU's first priority on Libya was to address the humanitarian crisis and assist with the evacuation.
The European Commission had, she said, increased its assistance to 30m euros (£26m; $42m).
The second priority, she said, was to ensure the on-going violence stopped and that those responsible were held to account.
On the wave of pro-democracy protest sweeping the Arab world this year, the EU foreign affairs chief said Brussels should adopt an incentive-based approach.
"Those partners that go further and faster with reforms should be able to count on greater support from the EU," she said.
'Risk of bad decision'
Speaking to Lady Ashton, Mr Jebril called on the EU to help the rebels in different ways "to continue their armed struggle against Gaddafi".
"A no-fly zone is one of them, supplying the peoples with arms," he was quoted by Reuters news agency as saying.
Among those MEPs advocating recognition for the NLC at Wednesday's debate was the head of the Liberal group, former Belgian Prime Minister Guy Verhofstadt.
"We have to neutralise as quickly as possible Gaddafi's capacity to kill his citizens," he said.
Greens leader Daniel Cohn-Bendit also demanded recognition, saying the NLC was the "only force that can bring democracy to Libya", and warning that victory for Col Gaddafi would mean "the end of democracy across the region".
He urged Western military powers to enforce a no-fly zone over Libyan territory.
"Obviously we are not going to bombard Libya, but we can't let Col Gaddafi bombard Libyan towns," he said.
Mr Cohn-Bendit also urged the parliament to "let the refugees enter Europe".
"If we do that, we will send out a very strong humanitarian and political signal," he said.
"European values must be recognised. We insist on those values and on liberty for Libya, Tunisia and Egypt."
However, Socialist group leader Martin Schulz warned of "the risk of making a bad decision".
He said a "no-fly zone would mean the destruction of Gaddafi's air force, which needs a decision by the United Nations Security Council and the involvement of the Arab League and African Union".