Misrata eyewitness: 'Waiting for the onslaught'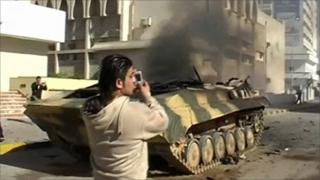 Pro-Gaddafi forces have been battling to regain control of rebel-held towns, pounding Zawiya to the west of Tripoli. Mohammed lives in Misrata, to the east of the Libyan capital, and says he is a member of the civilian body that runs the town. He told the BBC about the mood there.
"It is very tense and people are feeling very emotional in Misrata.
We believe that Gaddafi's forces are gathering to the west and we are waiting for another onslaught from the dictator.
We are licking our wounds and preparing our defences, gathering whatever weapons we have. During the last attack we captured four Jeeps and two Land Cruisers with mounted machine-guns.
There is some sense of normality but things are not what you would call normal.
Some shops are open, but most are closed. I am standing outside now and I can see that most of the streets are empty. There is a shop to my right-hand side that is open. Earlier I saw a bakery open with a long queue of some 100 people.
At least we can buy bread and vegetables. But even then grocery stores are only open for two or three hours a day. I have seen many empty shelves in shops. Businesses are not functioning. Schools are shut.
The big problem is lack of medical supplies. I've seen operations done without anaesthetics. I come away from visits to the hospital with tears in my eyes.
I am part of the civilian body that runs Misrata. We have nine special committees covering areas such as defence and health. There are difficulties in running the town - for example our supply line to other towns has been cut off.
What is helping is that people are so co-operative and compassionate.
Anxious but determined
The town is safe, there is no looting. The young people have set up groups to protect the property in their neighbourhood. Some of them set up a roadblock to protect my home.
People are concerned and anxious - we hear all kinds of rumours about Gaddafi's forces. You can imagine how that makes people feel. But the people of the town are very determined to hold it.
If this situation drags on things will get very hard.
I'm bitterly disappointed about the response from the world community. Are people waiting for a great catastrophe before they act? We need a no-fly zone - you have seen what Gaddafi's jets have already done.
In Misrata we are crying out for medical supplies. We have a port in Misrata and we can pay for supplies.
The dictator has the military power but we have faith and belief and determination, the likes of which I have never seen before. I'm proud that the Libyan people are putting their lives on the line and are prepared to die for freedom."