ICC summons six Kenyans over post-election violence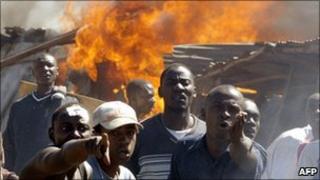 The International Criminal Court (ICC) has issued summonses for six Kenyans suspected of being behind the violence after the disputed 2007 elections.
The suspects, including the deputy prime minister, an ex-minister and a ex-police chief, were ordered to attend the court in The Hague on 7 April.
They are accused of murder, deportations and persecutions by ICC chief prosecutor Luis Moreno-Ocampo.
Some 1,200 people died and more than 500,000 fled homes in the violence.
In the peace deal that followed it was agreed that perpetrators would face justice in Kenya or at the ICC in The Hague.
The six suspects are all senior allies of President Mwai Kibaki and his election rival Raila Odinga, who is a current prime minister.
Among those called to appear next month are Deputy Prime Minister Uhuru Kenyatta, former Higher Education Minister William Ruto, head of the Civil Service Francis Muthaura and former police chief Mohammed Hussein Ali.
The BBC's Will Ross in Nairobi says now that the reality of the ICC trials is hitting home there has been a late rather panicky effort to save the politicians from going to The Hague with a promise that justice will be pursued locally.
Ministers are currently jetting around the world trying to drum up international support for the trials to be deferred for a year, he says.
Last month, the African Union endorsed Kenya's request to delay the ICC trial.
But summonses mean the trial of the six prominent Kenyans is now almost inevitable, our reporter says.