Darfur: Sudan rebels to face ICC war crimes trial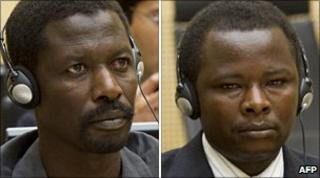 Two Sudan rebel leaders will go on trial over a deadly attack on peacekeepers in Darfur in 2007, the International Criminal Court has said.
A pre-trial chamber found that there were "substantial grounds" to go ahead and try Abdallah Banda Abakaer Nourain and Saleh Mohammed Jerbo Jamus.
The two men surrendered to The Hague last year.
Sudan's president, a minister and pro-government militia leader, also indicted over Darfur, remain at large.
The war crimes charges against the rebel leaders relate to the killing of 12 African Union peacekeepers in an attack on the AU's Haskanita camp in September 2007.
Last year, charges against another rebel leader to do with the same attack were dropped by ICC judges because of a lack of evidence.
President Omar al-Bashir is accused of war crimes and genocide in Darfur by the ICC.
But he strongly denies arming Arab militias accused of attacking black African civilians in Darfur after rebel groups took up arms in 2003.
The African Union is lobbying for the indictment against him to be put on hold.
The UN estimates the conflict has cost the lives of some 300,000 people and displaced a further 2.7 million.
The Sudanese government puts the death toll at 10,000 and says the problems in the region have been exaggerated for political reasons.