Malawi: Ex-President Muluzi's corruption trial opens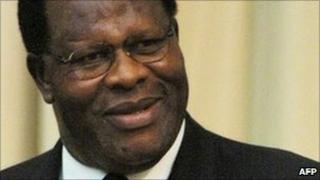 The trial has begun in Malawi of former President Bakili Muluzi on charges of corruption.
The High Court dismissed an application on Monday to halt the trial on the grounds of Mr Muluzi's ill health.
The former president has been accused of misappropriating about $11m (£7m) of funds from international donors.
He denies the charges - and has always said they were linked to his dispute with Bingu wa Mutharika who became president in 2004 after he stood down.
Mr Muluzi was arrested in 2005 on charges of corruption, but the trial has been previously delayed because of his ill health.
The BBC's Raphael Tenthani in Blantyre says the former president was in court - and was seen for the first time using a walking stick.
He was not his usual jocular self and asked for adjournments every 30 minutes to stretch his legs, our reporter says.
Since his retirement in 2004, Mr Muluzi has undergone several operations on his back.
President Mutharika fell out with Mr Muluzi after he came to power, accusing his one-time backer of trying to stonewall his anti-corruption drive.