Ivory Coast: Ouattara 'ministers' homes looted'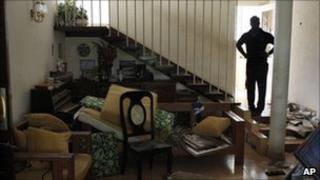 Youths and security forces in Ivory Coast have ransacked the Abidjan homes of "ministers" named by Alassane Ouattara, widely accepted as president.
In the west of the country, former rebels who support Mr Ouattara against his rival, Laurent Gbagbo, have captured the town of Toulepleu.
Ivory Coast has been in crisis since November's vote, when Mr Gbagbo refused to cede power to Mr Ouattara.
The crisis has sparked warnings of a humanitarian crisis from aid agencies.
Witnesses in Abidjan said that in recent days groups of youths have been breaking into the homes of officials allied to Mr Ouattara and making off with belongings, while uniformed police looked on.
The officials have been staying with Mr Ouattara under UN protection at a hotel in the city.
Both Mr Ouattara and Mr Gbagbo have named their own cabinet - Mr Ouattara's prime minister is former rebel leader Guillaume Soro.
Mercedes stolen
Near Ivory Coast's western border with Liberia, the New Forces former rebels took Toulepleu from Mr Gbagbo's forces, both sides said.
The New Forces control the northern half of Ivory Coast while the army in the south remains loyal to Mr Gbagbo.
The clashes in the town are a further sign that the ceasefire that froze the civil war in Ivory Coast seven years ago is increasingly at risk, says the BBC's John James in Abidjan.
UN peacekeepers monitoring the ceasefire say they are overstretched and cannot provide security for all civilians.
Districts of Abidjan loyal to Mr Ouattara have seen violent clashes for two weeks and the UN estimates some 200,000 people have fled the area.
On Thursday, security forces shot dead at least six women marching in support of Mr Ouattara in Abidjan's northern Abobo neighbourhood.
Aid agency Oxfam says people fleeing the violence are in need of clean water, food and shelter and warned the crisis risks becoming another "forgotten emergency".
One of Mr Ouattara's advisers told Reuters news agency that three ministers were among 10 of his allies to have had their houses looted.
"They took my Mercedes, my 4x4 that I use for going to the bush, they looted my house, which is near the hotel checkpoint," said Mr Ouattara's spokesman Patrick Achi.
But he added: "When you've been imprisoned for so long you get philosophical. When you see so many people dying, this is so much more important than a house or a car."
The African Union's commission chief Jean Ping has left Abidjan after inviting both Mr Gbagbo and Mr Ouattara to a summit at the AU offices in Ethiopia on Thursday.
The AU has appointed five African leaders to mediate an end to the crisis.