Benin delays presidential election for second time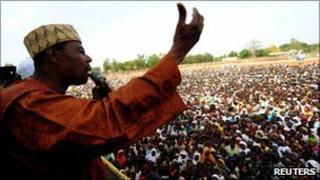 Benin's constitutional court has approved another one-week delay in the presidential election, to 13 March.
The move follows complaints that more than one million people were not yet registered to vote and preparations for the poll were not complete.
The UN and the African Union had called for the postponement, saying more time was needed to distribute voter cards.
President Boni Yayi is seeking a second term, with his main challengers Adrien Houngbedji and Abdoulaye Bio Tchane.
In its decision, the constitutional court said the time remaining before Sunday's rescheduled election date "clearly does not allow the [electoral commission] to accomplish the indispensable tasks for a credible election".
The vote in the West African nation was originally scheduled for 27 February then postponed to 6 March.