Somalia's al-Shabab 'holds 18 Burundian bodies'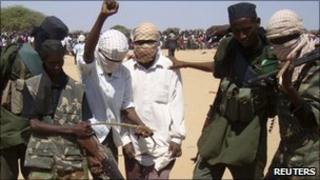 Somali Islamist group al-Shabab has told the BBC it is holding the bodies of 18 Burundian peacekeepers following heaving fighting in the capital.
The Burundian government had confirmed the death of six of its soldiers but there is growing suspicion that the number killed was much higher.
The AU troops, along with those from the interim government, have captured ground from the militants recently.
But the AU mission has been reluctant to give casualty figures.
A United Nations source said 30 Burundians had been killed plus 10 Ugandans and dozens of peacekeepers had been injured.
Two Nairobi-based diplomats, requesting anonymity, told AP news agency that the number of casualties was even higher and that at least 43 Burundian and 10 Ugandan troops had been killed since 18 February.
AU spokesmen have chosen to stress the territorial gains made against the militants, rather than given information about casualty figures.
A spokesman for the Burundian army has denied any more than six bodies are being held by al-Shabab.
The BBC's East Africa correspondent Will Ross says the secrecy surrounding events on the ground in Mogadishu makes it harder to judge the success of the mission.
Somalia has not had a functioning national government for 20 years.
Al-Shabab controls much of southern Somalia and has been fighting interim government forces and the 8,000 AU troops for control of Mogadishu in recent months.