Viewpoint: Military coup would harm Tunisia's interests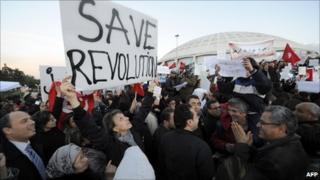 There have been calls for a greater military role to help stabilise post-revolutionary Tunisia, but North Africa analyst Francis Ghiles warns that a military coup would only damage Tunisia's long-term interests.
The poorer classes of Tunisia paid a heavy price in blood to overthrow the out of touch Zine al-Abidine Ben Ali and his greedy family, but building a working democratic system is proving to be difficult.
The interim Tunisian Prime Minister Mohamed Ghannouchi resigned last Sunday, saying that he "did not want to be the prime minister of repression".
Bloody clashes between tens of thousands of young demonstrators, who were demanding the departure of a man who had held the job for 11 years, left dozens wounded and five dead in the heart of Tunis.
Mr Ghannouchi was replaced by Beji Caid Sebsi, an 84-year-old lawyer who served as a former foreign minister under Habib Bourguiba - the founder of modern Tunisia - and a man who retired from active political life in 1994.
However honourable and well intentioned, appointing a man born in 1926 to run the country is seen by many young Tunisians as adding insult to injury. It suggests that the Tunisian elites are unwilling to usher in the radical changes so many of their countrymen hope for.
There is now increasing talk of the army taking over, rumours which are encouraged by the dire situation on Tunisia's southern border with Libya from which 75,000 refugees have arrived in recent days.
Ben Ali 'lite'
Fear of disorder is growing as many workers are on strike and former managers, deeply compromised by their links to the former president, are being forced to resign their jobs, notably in state companies.
A number of ordinary Tunisians have been beaten up in recent days by plain clothes policemen and members of the hated militia of the fallen dictator - Brigades de l'Ordre Public ("les Bop").
The economic challenge is also a tall one. The political turmoil, combined with sluggish growth in Europe, is expected to lead to a contraction of 1.5% in real Gross Domestic Product in 2011. This compares with an estimated growth of 3.4% last year.
The cost of the current upheaval was estimated at $5bn (£3.1bn), equivalent to 11% of GDP, a figure which is likely to rise if a functioning government cannot get the country back to work soon.
Two major sources of foreign currency have, for the moment, dried up - tourism and receipts from Tunisian workers in Libya. Tunisia does, however, have a manageable foreign debt which is mostly on concessional terms.
A conference of the country's major economic partners due shortly will no doubt offer some breathing space.
Entrenched interests
Despite the difficulties Tunisia currently faces, it would be a huge mistake for the army, many of whom are conscripts, and its highly respected army chief of staff, Gen Rachid Ammar, who refused the former dictator's orders to shoot on unarmed crowds of protesters, to seize power.
The temptation may come from pressure in the ruling elite, fearful of seeing its wealth and privileges eroded by the emergence of genuine democratic forces; and from "friends" of Tunisia in Washington, European or Arab capitals who would be content to see a Ben Ali "lite" regime, rather than a genuine democracy emerge from the current confusion.
Finally the Tunisian army is small and under equipped: it might be tempting for its senior officers to claim a stake of the pie.
Gen Ammar might, however, take a different stand, modelled on the situation in Turkey - to act as the guarantor of his country's external security and guarantee that free and fair elections will take place.
If he chooses to act constitutionally, he might well remember the example of his predecessor, Gen Kheireddine Pasha. He was principal minister of Mohamed al-Sadok Bey, the Tunisian ruler who issued the first modern constitution in the Arab world in 1861, 20 years before France colonised Tunisia.
Establishment figure
Throughout barely six weeks as interim prime minister, Mohamed Ghannouchi was very much in the hands of former acolytes of Mr Ben Ali.
This is hardly surprising for this former civil servant and minister who, though a man of personal integrity, had failed over the years to confront a rapacious and mafiosi first family.
Some of his closest advisers were linked to Mr Ben Ali, either by marrying into the family or through their professional services to the presidential office.
One adviser - a speech writer for the former French prime minister Jean Pierre Raffarin - had even helped to craft the former head of state's last two televised speeches before he fled the country on 14 January.
Their presence suggests that entrenched interests remain powerful in the economy and the security forces, and will not cede power easily to a younger generation, even if they were willing to sacrifice Ben Ali.
The temptation to use young thugs who belonged to the Ben Ali militias must be strong and their presence and brutish behaviour were there for all to see during last weekend's disturbances in Tunis.
Francis Ghiles is a senior researcher at the Barcelona Centre for International Affairs (Cidob).