Zambians die in stampede watching Man Utd v Chelsea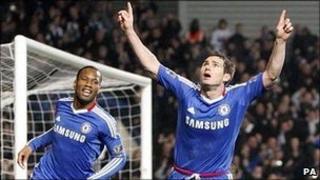 Four Zambian police officers have been charged with murder after allegedly causing the death of two people watching the Chelsea v Manchester United football match in a bar.
Police say the bar was staying open late illegally to show the crunch English Premier League game.
Patrons refused to leave the bar and police threw a tear gas canister in the southern town of Mazabuka.
This led to a stampede in which a woman of 21 and a man of 23 died, police say.
The BBC's Mutuna Chanda in Zambia says bars are only allowed to stay open until 2230 local time (2030 GMT) - half-time in the game between the defending champions and the current league leaders.
English football is extremely popular in Zambia, as in many countries across Africa.
Our correspondent says there were protests in Mazabuka, 100km (62 miles) south of the capital Lusaka, after word spread on Wednesday about the deaths.
Protesters smashed windowpanes at the police station and burnt refuse bins.
The protesters also blocked the Great North Road that connects Zambia's tourist capital Livingstone to Lusaka.
Extra police officers were sent to the town and calm has been restored.