Tripoli simmers as Gaddafi puts lid on protests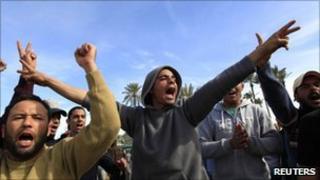 We've been getting some anonymous gifts.
A man came up to one of the BBC team in Green Square, the centre of Tripoli. He offered a handshake. When my colleague obliged, he palmed the spent casing of a bullet into his hand. Then he walked away without looking back.
In Tajoura, which is a suburb of Tripoli, a man strode up, very purposefully. I thought he was going to say something. Instead he handed me a computer memory stick, turned on his heels and walked off.
The man in Green Square was, I think, trying to send a discreet message. He was saying don't let appearances fool you. The square may look quiet, but the city isn't calm.
In Green Square, a man was firing streams of bubbles from a brightly coloured plastic toy shaped vaguely like a gun.
The bubbles were caught by the breeze coming in from the sea and whirled away towards the battlements of the fortress that Colonel Gaddafi used a few days ago as the backdrop for a speech.
Tripoli is controlled by the regime. Even so, it is worried enough to have tanks on major junctions on the way in and out of the city.
The streets are fairly busy in daylight. If Tripoli's residents thought violent regime change was imminent they would stay at home.
But outside the city centre, it feels less stable.
The man with the memory stick in Tajoura was delivering evidence. His district is a centre of anti-Gaddafi protest. On the streets you can see the remains of barricades made by burning tyres, and buildings connected with the regime have been gutted by fire.
He wasn't the only one who's been giving us pictures in the last few days.
'Shooting to kill'
The most telling material provided by local people, mainly taken with their phones, shows protesters trying to get to Green Square last Friday from Tajoura.
Security forces opened fire long before they got close to the city centre.
It is clear from the pictures that they were shooting to kill. Blood pours out of a bullet wound in one man's head. It leaves a trail along a sandy pavement.
The sounds of gunfire crackle throughout the video.
The mad insect noise made by a bullet that just misses is picked up on the soundtrack. Another man is carried away, dead or dying, his head flopping.
In the interview he gave to the BBC, ABC News and the Sunday Times on Monday night, Col Gaddafi said his men had only opened fire in self defence, against crowds incited by al-Qaeda. He said that al-Qaeda had given youngsters drugs, to make them attack the security forces.
My impression of the protesters, not just in Tajoura but also in Zawiya, a town about 30 miles west of Tripoli, is that they are not al-Qaeda dupes. They did not seem to be drugged either.
Instead they spoke about the same things as protesters last month in Tahrir Square in Cairo - freedom and their desire to get rid of an authoritarian ruler.
'Genuine powerbase'
It is clear that Colonel Gaddafi has a genuine powerbase in Tripoli. But protesters are in this city too.
Demonstrations this week in favour of the colonel have been noisy, but not at all big. The protesters in Zawiyah and Tajoura have more passion, and look more spontaneous.
Libya's would-be revolutionaries will not have the political impact of the demonstrators in Cairo until they can put much bigger numbers on the streets of Tripoli.
In the end it was the persistence and pressure from the crowds that did for President Mubarak.
But in Cairo the protesters were, after a few false starts, protected by the army. In Tripoli, they're on their own.