Algeria ends 19-year-old state of emergency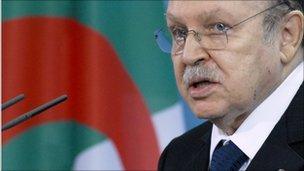 The president of Algeria has lifted a 19-year-old state of emergency, a key demand of anti-government protesters.
A statement bringing the emergency to an official end was published in the country's official gazette, days after the move was announced.
The military will now only have limited powers to get involved with domestic security issues.
Algeria - like other countries in the region - has recently witnessed demonstrations for greater freedoms.
The state of emergency was imposed to help the Algerian authorities during a brutal conflict with Islamist rebels in the 1990s.
Earlier this month President President Abdelaziz Bouteflika pledged it would be lifted in the "very near future", although rallies in the capital would remain banned.
He said the state of emergency was imposed solely as a means to fight terrorism, and that it was "this reason only which has justified maintaining it on a legal basis".
On Tuesday, the Algerian cabinet approved the draft order to lift it.
The move is seen as a concession to opposition parties and human rights activists, who have been staging marches calling for democracy and greater freedoms.
Inspired by popular revolts across the Arab world, the opposition has said its supporters will rally every Saturday in the capital until there is a change in the government.