Mali stampede in Bamako 'kills dozens'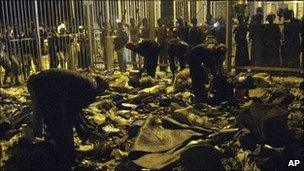 At least 36 people have been killed in a stampede at a stadium in the Malian capital of Bamako, officials say.
More than 60 others were injured in the incident, which occurred at the end of a sermon given by imam Osman Madani Haidara.
The stampede happened at the Modibo Keita Stadium, which seats 25,000.
The crowd wanted to be blessed by the imam after the speech, made on the festival of Maouloud, the Prophet Muhammad's birthday.
The BBC's Martin Vogl in Bamako says the blessing is an event that many Muslims in Mali look forward to with great excitement.
Osman Madani Haidara is one of Mali's best-loved and most-respected imams and the stadium was filled well beyond its capacity when the stampede happened at around 1800 GMT, he says.
Most of the dead were crushed against metal fencing as they waited to leave, Mali's minister of interior security and civil protection said.
Relatives gathered at the Gabriel Toure Hospital, trying to find out information about the dead and wounded.
"I've already had it confirmed that my aunt died," Sidiki Coulibaly told the Associated Press news agency.
"We are now trying to find out what happened to her daughter. She's just 10 years old. They go to this event together every year."
Almost all of the dead were women, our correspondent says.
There was little anger at the hospital where many of the grieving saw the accident as destiny or God's will rather than just a case of bad organisation, he says.
Mali's prime minister has visited the hospital to see the wounded and give his condolences to the bereaved families.
A couple of hours after the stampede security personnel at the stadium were still clearing away piles of clothing and other personal belongings at the scene, our reporter says.
Related Internet Links
The BBC is not responsible for the content of external sites.