Madagascar: Ousted leader Marc Ravalomanana 'to return'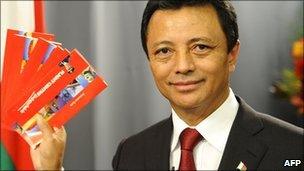 Madagascar's exiled and deposed president, Marc Ravalomanana, has said he intends to return home on Saturday despite a warrant for his arrest.
Mr Ravalomanana has lived in South Africa since 2009 when he was ousted by the current leader, Andy Rajoelina, with the support of the military.
Last year he was sentenced in absentia to life in prison for the killing of at least 25 people during street protests.
The Indian Ocean island has been beset by instability for several years.
Last November, troops put down a three-day mutiny against Mr Rajoelina, who has been diplomatically isolated since coming to power, ignoring attempts by regional mediators to broker a consensus with the opposition.
"I know the risks facing my return, but cannot allow them to get in the way of us restoring democracy," AP news agency quotes Mr Ravalomanana as saying.
"I have nothing to fear. I have done nothing wrong."
Waving his plane tickets at a press conference in Johannesburg, he said that he wanted to go back to start a "genuine dialogue, which is desperately needed".
The BBC's southern Africa correspondent Karen Allen says Mr Ravalomanana admitted he had been emboldened by pro-democracy demonstrations in other parts of the world.
But support for him to return inside Madagascar has remained relatively muted, she says.