South Sudan independence: Bashir seeks Darfur 'reward'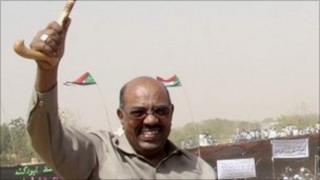 Sudan has hinted that the arrest warrant for President Omar al-Bashir should be withdrawn as a "reward" for him accepting the south's independence.
Mr Bashir has promised to recognise Southern Sudan after 99% of voters backed secession.
The vote comes after decades of north-south conflict.
The International Criminal Court has issued a warrant for Mr Bashir's arrest in connection with a separate conflict in the western region of Darfur.
In a special meeting on Wednesday, the UN Security Council congratulated Sudan's government for its co-operation in the south's referendum on independence.
"Shouldn't this be rewarded by your distinguished and august council by a new vision, a new vision that would reconsider the position vis-a-vis the hero of peace, President Bashir?" asked Sudan's UN ambassador Daffa Alla el-Haj Ali Osman.
Mr Bashir is accused of links to war crimes committed against civilians in Darfur, after rebels took up arms in 2003.
BBC UN correspondent Barbara Plett says some African and Western states are reportedly considering granting Mr Bashir a year's reprieve from these charges - the idea would be to encourage Khartoum to settle contentious outstanding issues with the south, which is due to formally declare independence in July.
The African Union wants the warrant to be dropped, saying the priority should be to secure peace.
But our correspondent says there was no sign of any such move at the council.
Its statement criticised recent government bombardments in Darfur, and mentioned the importance of justice for crimes committed there.
The US has suggested it would take Sudan off their list of states which sponsor terrorism, if it ensured a peaceful referendum.
However it has linked promises to lift sanctions and normalise relations to a negotiated solution of the conflict in Darfur.
Both Sudan and the South are reliant on their oil revenues, which account for 98% of South Sudan's budget. But the two countries cannot agree how to divide the oil wealth of the former united state. Some 75% of the oil lies in the South but all the pipelines run north. It is feared that disputes over oil could lead the two neighbours to return to war.
Although they were united for many years, the two Sudans were always very different. The great divide is visible even from space, as this Nasa satellite image shows. The northern states are a blanket of desert, broken only by the fertile Nile corridor. South Sudan is covered by green swathes of grassland, swamps and tropical forest.
Sudan's arid north is mainly home to Arabic-speaking Muslims. But in South Sudan there is no dominant culture. The Dinkas and the Nuers are the largest of more than 200 ethnic groups, each with its own languages and traditional beliefs, alongside Christianity and Islam.
The health inequalities in Sudan are illustrated by infant mortality rates. In South Sudan, one in 10 children die before their first birthday. Whereas in the more developed northern states, such as Gezira and White Nile, half of those children would be expected to survive.
The gulf in water resources between north and south is stark. In Khartoum, River Nile, and Gezira states, two-thirds of people have access to piped drinking water and pit latrines. In the south, boreholes and unprotected wells are the main drinking sources. More than 80% of southerners have no toilet facilities whatsoever.
Throughout the two Sudans, access to primary school education is strongly linked to household earnings. In the poorest parts of the south, less than 1% of children finish primary school. Whereas in the wealthier north, up to 50% of children complete primary level education.
Conflict and poverty are the main causes of food insecurity in both countries. In Sudan, many of the residents of war-affected Darfur and the border states of Blue Nile and South Kordofan, depend on food aid. The UN said about 2.8m people in South Sudan would require food aid in 2013. The northern states tend to be wealthier, more urbanised and less reliant on agriculture.