Ivorian forces clash with pro-Ouattara residents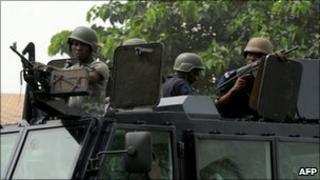 Ivorian security forces have clashed with residents of a neighbourhood loyal to Alassane Ouattara in the capital Abidjan, witnesses and officials say.
A scuffle broke out at a police station in the Abobo district and resulted in security forces opening fire, a senior official at the mayor's office said.
There were unconfirmed reports that at least one person died in the clash.
Mr Ouattara is recognised by the UN as the winner of recent polls, but incumbent Laurent Gbagbo claims he won.
The stalemate in the West African cocoa-producing nation has continued since the elections in November.
"There was an altercation and it degenerated. The security forces open[ed] fire on the civilians," an official from the mayor's office told Reuters.
'Sustained gunfire'
Witnesses told AFP news agency that residents of Abobo, a district in northern Abidjan, had gathered to protest alleged abuses by security forces.
Protesters also reportedly ransacked two police stations in the district, before reinforcements were called in.
Residents said there was "very sustained gunfire" in the neighbourhood later. "We are all holed up in our rooms," one witness said.
Meanwhile, an African Union panel has sent experts to Abidjan to meet with representatives of both sides, but not the two rival presidents.
Last month, at least six policemen and an unknown number of civilians were killed in clashes.
In December, UN investigators reported nearly 200 deaths in overnight raids on pro-Ouattara areas.
It says security forces loyal to Mr Gbagbo have blocked peacekeepers from visiting the sites of alleged mass graves - one in Abobo and the other near Gagnoa, home town of Mr Gbagbo.
For weeks Mr Ouattara has been blockaded in a hotel in Abidjan, protected by UN peacekeepers and the former rebels.
November's presidential vote was supposed to reunify the country, which has been divided between north and south since a conflict in 2002.