Foreign Office lifts Tunisia travel warning to Britons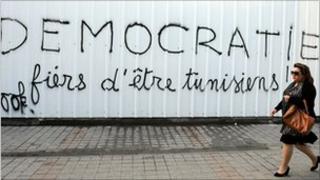 Warnings against travel to Tunisia have been lifted in light of the "reduced threat" following recent political unrest, the UK Foreign Office has said.
The uprising there last month saw President Zine al-Abidine Ben Ali flee after 23 years in power.
The FCO website said the overall level of advice had changed, with them no longer advising against all but essential travel to Tunisia.
But it said while major protests had ended, "further unrest [was] possible".
"Anyone travelling to Tunisia should keep themselves well informed and closely monitor political and security developments," it says.
A nightly curfew between 2200 and 0400 local time remains in the Greater Tunis area until further notice.
Minister for the Middle East and North Africa, Alistair Burt, said January's events were "watched around the world".
"There is now a new government which is broad-based and has signalled its intention to deliver political reform and a path of reform to what we hope will be free and fair elections.
"This progress, marked by its commitment to sign important human rights agreements, appears to have public acceptance.
He added: "It is still early days. Much depends on how the new Tunisian government continues to engage with the public, civil society and the international community. But the UK believes that its actions are encouraging.
"We have decided to change our travel advice to reflect our assessment of these recent events and the reduced threat to British nationals."
He added that a tourism industry was "vital" to Tunisia's economy and future.
"We hope this change in the advice enables people to see the country in a new light and we look forward to being engaged in assisting its political, social and economic development," he said.
Assets frozen
An estimated 5,000 Britons, most of them tourists on package holidays, were in Tunisia when the situation deteriorated.
The Foreign Office initially altered its travel advice to "all but essential travel" on 14 January, and more than 3,000 British citizens left the North African country on additional flights laid on by tour operators.
Meanwhile, Tunisia's new tourism minister Mehdi Houass has told Reuters the government will lift a state of emergency, which has been in place since 14 January.
It was imposed by Mr Ben Ali before he fled, along with a curfew which authorities have reduced as protests have faded.
The tourism industry been badly affected by the recent instability, with Mr Houass telling reporters revenues and visits were down by 40% in January.
On Friday the European Union said it was freezing the assets of 46 allies and relatives of the deposed Tunisian president and his wife.
He fled to Saudi Arabia after weeks of anti-government protests, while some of his associates have gone elsewhere.
EU foreign ministers had already agreed to freeze Mr Ben Ali's assets.
Authorities in Tunisia have issued an international arrest warrant for the ex-president, accusing him of taking money out of the country illegally.