Niger election: Issoufou to face Oumarou in run-off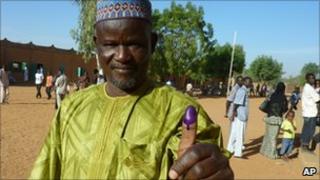 Veteran opposition leader Mahamadou Issoufou is to face ex-Prime Minister Seini Oumarou in a run-off in Niger's first election since last year's coup.
Mr Issoufou gained 36% against 23% for Mr Oumarou, official results show.
Mr Oumarou is a close ally of Mamadou Tandja, ousted by the army in 2010 amid criticism for seeking a third term.
Military ruler Salou Djibo has promised to hand power to an elected leader before April.
For the 12 March run-off, Mr Oumarou had been expected to be backed by a broad coalition including the party of Hama Amadou, who came third with 20%.
But some of Mr Amadou's allies say he is having second thoughts, saying Niger needs "renewal".
Mr Oumarou heads the National Movement for the Development of Society (MNSD) of Mr Tandja.
The election commission said turnout was 53%.
A candidate needed more than 50% of the vote to be elected in the first round.
Mr Issoufou's party also gained the most seats in parliament, with 39 against 26 for the MNSD.
Mr Amadou's party gained 24 seats.
A new constitution was passed in a referendum in October. This reduces the powers of future presidents and limits them to two terms in office.
Niger is one of the world's poorest countries but has large deposits of uranium in the north, under the Sahara Desert.