Uganda: Police arrest over gay activist Kato killing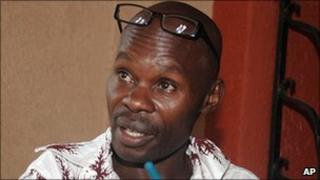 Ugandan police have arrested a man over last week's murder of David Kato, a gay activist who sued a local newspaper which outed him as homosexual.
Police say Enock Nsubuga, the second person arrested in connection with the killing, is their main suspect.
They deny that Mr Kato was killed because of his sexuality and that initial inquiries point to robbery.
Homosexual acts are illegal in Uganda, and can be punished by 14-year prison sentences.
An MP recently tried to increase the penalties to include the death sentence in some cases.
Uganda's Rolling Stone newspaper then published the photographs of several people it said were gay, including Mr Kato, with the headline "Hang them".
Mr Kato worked for the Sexual Minorities Uganda (Smug) group, which said he started receiving death threats after his name, photograph and address were published by the newspaper last year.
His colleagues say he was beaten to death at his home.
The BBC's Joshua Mmali in Kampala says Mr Nsubuga was arrested in Mukono, a town east of the capital where Mr Kato had lived.
The suspect has yet to be brought before a magistrate, our reporter says.
There has been a recent spate of "iron-bar killings" in Mukono in which people have been assaulted with pieces of metal.
Our reporter says the death of Mr Kato has attracted a great deal of international attention.
The UN refugee agency head Antonio Guterres said people facing persecution for their sexual orientation in Uganda should be given refugee status in other countries.
A year after it was proposed, the Anti-Homosexuality Bill is yet to be formally debated by the Ugandan parliament.