Will deadlock see Ivory Coast shut up shop?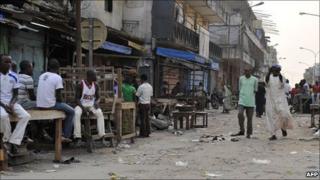 Two months after presidential elections designed to end a decade-long civil crisis, Ivory Coast has plunged into a political quagmire few Ivorians imagined possible.
They hoped the elections would reunite the cocoa-rich nation, split in two since a failed coup in September 2002 which left rebels in control of the north.
Instead the West African nation remains more divided than ever with incumbent President Laurent Gbagbo refusing to stand aside for Alassane Ouattara, the man the UN peacekeepers based in the country say won the poll.
"I didn't mind who won, we just needed a winner to get back to normal," said Theodore, who works for a mobile phone company in the commercial capital Abidjan.
"Instead we got two presidents and the economy's collapsing," he said.
African Union heads of state meeting in Ethiopia have just decided to set up a panel of leaders to find a way out of the crisis, giving Mr Gbagbo at least another month in charge.
For Mr Gbagbo's key street leader, Charles Ble Goude, the announcement showed "Africa was taking charge of its own destiny" after what he said had been a UN-inspired plot to install Mr Ouattara - a former IMF deputy managing director.
But West Africa's second biggest economy is increasingly heading for financial crisis as the Gbagbo administration breaks ties with the West African CFA monetary union.
Switching banks
On Tuesday, Ivory Coast officially missed a $29m (£17.9m) interest payment on bond debt held by European institutions.
The head of the French Chamber of Commerce in Ivory Coast estimates a quarter of the small and medium-sized businesses in its association will go bust if the crisis continues into a third month.
The financial crisis has already led to problems paying some state salaries - a $160m wage bill that is a major burden for Mr Gbagbo's regime.
Private sector salaries have also been delayed because of banking problems and the economic slow-down.
"The government are short on finances so if you've been "Ivorian currency of the resistance" absent from work and can't justify it, they put you on a list and you don't get your salary," said Pierre Aka, a secondary school teacher in Bassam, just outside Abidjan.
Some state workers have been switching banks from the private, often-French owned banks which now only pay salaries when the physical transfer of money has been made, to state banks, which continue to pay salaries on trust prior to receiving the money.
And there has been talk of the incumbent creating his own currency - specimens of which have been handed out at political rallies.
The president-elect in the eyes of the UN and AU, Mr Ouattara remains under blockade in a hotel in Abidjan but he has control of the state bank accounts, held at a regional level.
His widely respected call for a boycott on the country's main export, cocoa, has now been followed by a call for companies to stop paying taxes, which currently end up in the pockets of Mr Gbagbo's government.
In response, Mr Gbagbo's supporters have seized control of the local branches of the West African regional central bank, the BCEAO.
Last week seven of the eight flags from the member-countries of the West African CFA monetary union were removed from outside the regional central bank offices in Abidjan, leaving just the Ivorian flag.
Mr Gbagbo's computer and financial experts are now rushing to create a new banking system, after the BCEAO closed down access to the internal computer network from their main offices in Dakar, Senegal.
Power cut warning
Mr Ouattara's spokesman, Patrick Achi, accused Mr Gbagbo's regime of being "bank robbers", at a press conference last week.
"This situation must end as quickly as possible because within a couple of days or within a week, we will begin to see the effects of this situation. It would not even be possible to have cash to purchase goods, even if these goods are available on the market."
In his effort to put pressure on Mr Ouattara's supporters, Mr Gbagbo has also taken over the privatised electricity company's distribution network.
Last week, his energy minister then flexed his muscle by switching off power to the north of Ivory Coast for a couple of hours - a warning to the region which voted heavily for Mr Ouattara in the 28 November elections.
For inhabitants of the northern half of Ivory Coast, the crisis is starting to resemble some of the worst moments of the civil war.
"We're not working, we're not going to school - that's since the elections," Mamadou Daniogo, an English teacher in Korhogo, told the BBC.
He said general strikes - called by Mr Ouattara's political alliance, the RHDP, are held every Thursday as a sign of protest about the impasse.
Foreign stooge?
The 2010 Ivorian presidential elections may one day be a staple case study for political science students around the world.
What do you do when after one of the world's most expensive elections per voter, and a vote watched by thousands of local and international observers, when the incumbent president refuses to accept defeat?
With most observers expecting the AU panel to fail, the only other option remains the threat of a military intervention - a move considered the "last resort" by the West African regional bloc Ecowas.
Military plans are now ready, and the central town of Bouake, under the control of the pro-Ouattara New Forces former rebels, would be a likely starting base.
Newspaper reports already talk of preparations and troop movements, though at the moment it seems the regional force, Ecomog, has only carried out preliminary reconnaissance work at the airport.
It is not clear how the Ivorian army - nominally loyal to Mr Gbagbo - would react to an outside attack, and installing Mr Ouattara by force could put at risk his political legitimacy.
Mr Ouattara may - according to the Independent Electoral Commission and the UN - have won November's poll by more than eight percentage points.
But many areas of the south - spurred on by the pro-Gbagbo state media - would see him as a foreign stooge, installed by foreign military power, not by popular Ivorian support.