Sudan: Demonstrators detained in Khartoum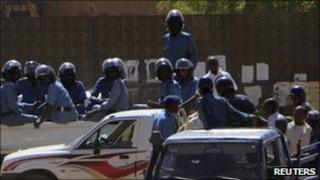 At least 15 protesters have been detained overnight in Sudan's capital, activists say, as demonstrations over high prices spread to other towns.
More than 100 people have so far been taken into custody since protests began on Sunday, rights group Africa Centre for Justice and Peace Studies says.
Police deny that one student was killed in a demonstration earlier in the week.
Correspondents say the protests tend to be organised on the internet, inspired by events in Tunisia and Egypt.
'Trap'
On Tuesday, dozens of protesters gathered in Jackson Square, one of the main bus depots in Khartoum, when security forces moved in to detain people in the crowd.
Human rights activists say as many as 30 people may have been arrested.
They believe it could have been a trap by the security services, accusing them of placing messages on Facebook calling for the demonstration.
The BBC's James Copnall in Khartoum says there were other protests late on Tuesday night elsewhere in Khartoum and its twin city of Omdurman.
Students have been the main organisers of the demonstrations, which have been mainly contained to university campuses.
But in El Obeid town on Sunday a large crowd marched through the market before being dispersed.
There have been reported demonstrations in the town of Kosti and in Gezira state too.
Some opposition leaders have already called for a popular revolution, but up until now it seems they have not put their weight behind the demonstrators.
There has been a sharp increase in the cost of living in the north of Sudan prompted in part by the government's removal of subsidies on petrol and sugar.
Our correspondent says President Omar al-Bashir has also been weakened by the upcoming separation of the south of Sudan, following last month's referendum.
Southern Sudan has most of the country's oil reserves, so a difficult economic situation is about to get much worse, he says.
The independence referendum was part of a deal to end decades of conflict between the north and south, which are deeply divided along ethnic, economic, religious and linguistic lines.