Nigerian President Goodluck Jonathan to seek one term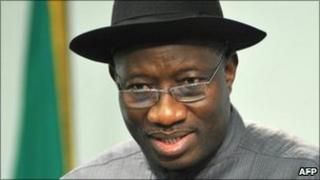 Nigeria's President Goodluck Jonathan has said he will not seek a second term in office if he wins elections scheduled for April.
As the governing party candidate, he is the favourite even though some party officials have said he should not run.
He is a southerner and the People's Democratic Party (PDP) has a tradition of alternating power between north and south of the country.
Under this unwritten rule, the PDP candidate should be from the north.
But in January's party primary, Mr Jonathan overwhelmingly defeated a northerner, ex-Vice-President Atiku Abubakar.
Last year, the party's powerful governors suggested that Mr Jonathan only seek one term as a compromise.
The PDP candidate has won every poll since the end of military rule in 1999.
However, most of its victories have been marred by widespread fraud and violence.
Mr Jonathan became leader after the death of elected President Umaru Yar'Adua in May 2010.
He is the first president from Nigeria's southern, oil-producing Niger Delta region.
Mr Jonathan has promised to introduce electoral reforms, but correspondents say it will be difficult to implement radical changes before April.
The main opposition candidates are former anti-corruption campaigner Nuhu Ribadu and Gen Muhammadu Buhari.