South Africa families plead with Somali pirates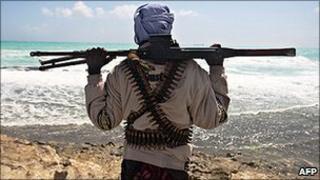 The families of a South African couple captured by Somali pirates have made a plea for their release, following a $10m (£6m) ransom demand.
Bruno Pelizzari and Deborah Calitz were abducted off the Tanzania coast in October when their yacht was hijacked.
"We are asking you to please let them go. They are just ordinary Africans like yourselves with similar problems - we are not rich," a relative said.
The northern coast of Somalia has seen many pirate attacks in recent years.
Ms Calitz's brother, Dale van der Merwe, told reporters on Monday that the families would not be able to raise the amount demanded and were worried about the couple's safety.
He said a man who called him last month claiming to be one of the kidnappers had refused to let him speak to his sister - which would prove that she and her partner were still alive.
South Africa's foreign ministry said it was giving the families consular assistance but that it would not pay the ransom.
"Government is not involved in any negotiations with them [pirates]. Our policy is that we don't pay ransoms," said ministry spokesperson Clayson Monyela.
Somalia has not had an effective central government for two decades.
For most of this time, the country has been at war and piracy has now become an attractive way of making money, with ransom payments reaching tens of millions of dollars.