Somali police battle troops, leaving 16 dead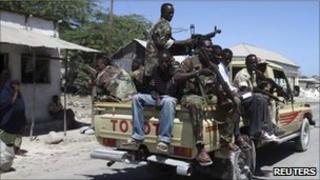 At least 16 people have been killed and 56 injured in the Somali capital Mogadishu, during clashes between pro-government troops and police.
The BBC's Mwalimu Mohamed in Mogadishu said the incident was sparked when a soldier shot dead a policeman they believed was an Islamist insurgent.
Witnesses said a soldier then opened fire on civilians, but some reports said it could have been an accident
Somalia has not had a functioning national government for 20 years.
Most of those killed in the capital were reported to be civilians who had been shopping in the crowded Benadir market.
The clash was ended when other troops intervened.
Mohamed Yusuf, the director of Mogadishu's Madina hospital, said they had received 17 bodies - it was unclear whether this included the policeman who was shot.
Mr Yusuf described the incident as "a disaster".
An official told the AFP news agency it was unclear whether the killings had been intentional.
"We are still investigating how things happened and we cannot say if the soldier accidently fired the machine gun or deliberately killed the civilians," he said.
'Brutal'
Defence Minister Abdihakin Mohamed Fiqi visited the Madina hospital to express regret over the deaths.
"On behalf of the Somali government, the president, his prime minister and the speaker, we are very sorry about the sad incident," AFP quoted him as saying.
"We will help the wounded and promise to bring those behind the brutal killing to justice," he said.
Our correspondent says it is not the first time that the armed forces have opened fire after a dispute and that residents of the capital have often complained about their indiscriminate firing.
Such clashes are an indication of lack of discipline and command in the country's security apparatus after 20 years of civil war, he adds.
Earlier on Monday, al-Qaeda-linked al-Shabab movement executed a man they accused of being a spy for the CIA.
Along with other Islamist groups, al-Shabab controls most of southern and central Somalia.