UN's Ban urges solidarity over Ivorian election crisis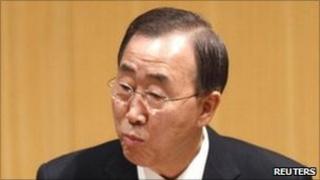 UN Secretary General Ban Ki-moon has called for a united approach to the ongoing poll dispute in Ivory Coast.
Speaking at an African Union summit, Mr Ban said the world should "stand firm" against attempts by incumbent leader Laurent Gbagbo to cling onto power.
Both the UN and AU recognise Mr Gbagbo's challenger Alassane Ouattara as Ivory Coast's president-elect.
Meanwhile, the AU is setting up a panel tasked with finding a legally-binding settlement to the Ivorian dispute.
The panel of five African leaders will be asked to find a solution within a month, reports say.
'African splits'
Addressing the AU summit in Ethiopia's capital Addis Ababa, Mr Ban said: "We must preserve our unified position, act together, and stand firm against Mr Gbagbo's attempt to hang onto power through the use of force."
Earlier, the UN chief expressed his concern about apparent splits in African efforts to end the Ivorian crisis.
The AU is backing Mr Ouattara, who is running a parallel government from a hotel in Abidjan which Mr Gbagbo's forces have blockaded.
However, Uganda's President Yoweri Museveni suggested earlier this week that the UN should not have recognised Mr Ouattara so quickly.
Separately, Mr Gbagbo's call for a vote recount has been taken up by some African leaders who appear increasingly reluctant to resort to the military option suggested by the West African bloc Ecowas.
Mr Ouattara is seen by many countries as the legitimate winner of November's presidential election.
But Mr Gbagbo is refusing to step down after the country's Constitutional Council, headed by one of his allies, ruled in his favour.